Prep 25 mins
Cook 10 mins

Mushrooms are very good for you, new research shows they may help to ward off infections and cancer. The recipe comes from Jean Carper, usaweekend.com
Directions
In a large pot, combine broth, soy sauce, ginger, garlic, mushrooms, cabbage, carrots and chicken.
Cover; Bring to a boil; simmer until mushrooms are soft, about 5 minutes.
Stir in noodles, green onions and spinach; simmer until greens are wilted, about 2 minutes,Season.
Reviews
Most Helpful
Very good, a nice blend of flavors and textures. I substituted the noodle with ramen noodles with success/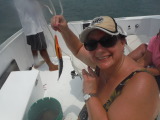 i am ammending my previous review because this tasted even better the next day! the flavors all mellowed together and was twice as tasty, if that's possible. this is a keeper

This is an awesome soup! I used bok choy cabbage, made the broth with a couple chicken thighs and then add some hot sauce to finish it. In a word... YUM!