Arroz Con Pollo (Dominican Style Chicken & Rice)
Tito H.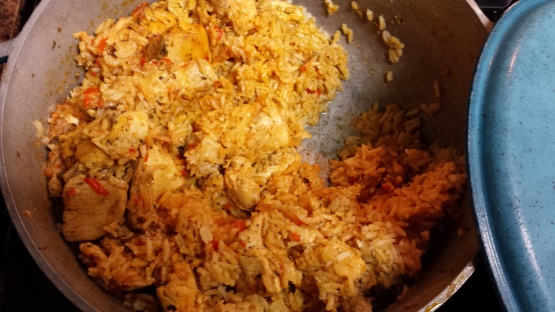 One pot--so simple! My MIL, who is from the Dominican Republic, has ALWAYS made this. Every since the very first time she made it for me, it has been my FAVORITE dish. Even my kids, ages 12 & 5 and are incredibly picky, will eat this meal. We usually make it with a side salad and fried Plantains like in Patacones Ticos (Costa Rican Fried Plantains). Oh and the house smells incredible while this is cooking!
This was good and easy to make. I just made the chicken portion, so left out the rice and water. We had this with steamed brown rice, beans, tostones and sliced avocado.
Throw ALL the ingredients "EXCEPT" Rice & Water into a large pot.
Cook over medium heat, stirring every so often.
When liquid starts to diminish add the rice & water.
Stir and bring to a boil.
Reduce heat, cover & simmer for approximately 20 minutes. Enjoy! :).