Armadillo Eggs (stuffed jalapenos)
Prep 30 mins
Cook 45 mins
These are so yummy. The cheese and bacon are a great compliment to the jalapeno flavor and reduce the heat of the peppers. This is my adaptation of an appetizer I had many years ago.
15 fresh jalapenos
1 (8 ounce) package cream cheese
2 tablespoons minced onions
1⁄4 teaspoon garlic salt
thin sliced bacon
Directions
Slice jalapenos in half and clean out seeds (be sure to get them all or they will be hot).
Mix cheese, onion and garlic salt together and spoon into jalapeno halves.
Wrap each with 1/2 strip of bacon.
Place on cookie rack placed over a cookie sheet to catch the drippings.
Bake at 350 for about 45 minutes or until the bacon is crisp.
The thin bacon wraps easier.
I just tuck the ends under the bottom.
Amazingly, these are not hot if you get all the seeds out.
There are never enough of them no matter how many I make because they are so popular.
Reviews
Most Helpful
I used a container of cream cheese with onions and place it in a plastic baggie, snipped off the end and used this to stuff the peppers. The bacon I cut in half, wrapped around each pepper and placed it on a rack over a sheet pan. We baked them for probably 45 minutes until the bacon was extra crunchy. Divine!!

Don't overlook this recipe because you think the peppers will be too hot! By removing the seeds and membrane, it takes the sting out of them and leaves you with a delicious pepper. I did cheat on one thing though -- I was making stuffed mushrooms using "hot" Jimmy Dean sausage and cream cheese so I just used the same stuffing and wrapped the jalapeno with bacon. They turned out fantastic and I'm sure they would have been just as good with just the cream cheese mixture alone. Hope you don't mind. Made this recipe for the Tailgating Tag, September, 2011.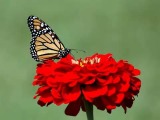 Wonderful! I used onion powder instead of fresh onion. Had 20 huge jalapenos so I used 2 packages of cream cheese. I softened the cream cheese first and then added the garlic salt and onion powder and used a hand mixer to blend it well. I put it in a ziploc bag and piped the cream cheese in the peppers. Even though they were big peppers a half a slice of bacon worked just fine with a toothpick. We didn't flip them at all in the oven and they turned out fine.