Hey Jude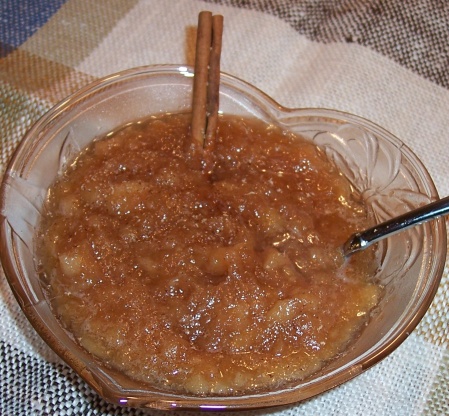 This smells great while it's cooking and is really nice served warm with roast pork. I found this recipe in the Sunset Crockery Cookbook.

This tastes delicious & the kitchen smells like apple pie! I halved the recipe - I'm cooking for 2 and my little crock pot is only 2 quart capacity - but I used the whole cinnamon stick. Cooking on low, it was ready in 6 hours. I filled a nice glass dish to serve with my roast pork on Sunday - and ate the rest right out of the crock pot - thanx Jude!
Spread apple slices in a 3-quart or larger slow-cooker (crock pot).
Sprinkle with sugar; insert cinnamon stick down between apples.
Drizzle with lemon juice.
Cover and cook on low until apples form a thick sauce, about 6 1/2 to 8 hours.
Remove and discard cinnamon stick.
Sprinkle with nutmeg.
Serve warm or at room temperature.