Apple Raisin Nut Spice Cake
Bayhill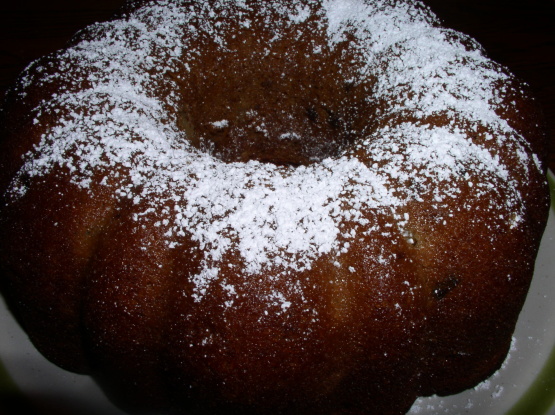 Around the Holidays ( Easter, Thanksgiving or Christmas ) this is one of my family's favorites. We hope you like it too!
This cake was delicious! It went together very quickly and easily. It has all of the things that I love in a spice cake...it was moist, fruity, and spicy. My family gave this 2 thumbs up!! Thanks Donna for sharing this wonderful recipe...it is definitely a keeper.
Preheat oven to 375* next Grease and flour a Bundt pan.
Except for the Sugar, Sift Dry Ingredients together into a large mixing bowl. Add Sugar, beaten Eggs, Applesauce, Molasses, Orange juice, Raisins, Apples and Nuts. Batter should be thick.
Pour Batter into the bundt pan and Bake for 45 minutes or until toothpick inserted comes out clean.
Let cake cool, remove from pan and sprinkle with powdered sugar or make a glaze.