Apple Butter Ribs (Crock Pot)
Cooksci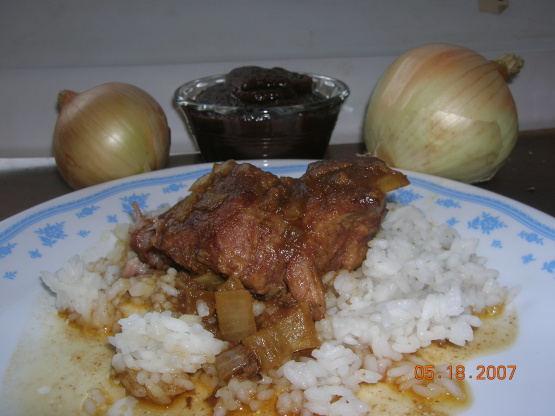 Easy crock pot ribs with little work. These are great served with rice.

Very tasty ribs! I varied the recipe slightly. Always looking for shortcuts, I used a 10oz bag of frozen chopped onions, (less would have sufficed), a full cup of apple butter and 1/2-1 tsp. of 'jar garlic' I keep refrigerated. The recipe is delicious, but I have to agree with another review...very fatty. Maybe try a pork roast next time? Also the cooking time was too long because the ribs were broken into tiny pieces. I may also try this at a lower cooking time, perhaps checking tenderness at 6hrs. I would have given this 5stars, but the '9 hour low cooking time' was just too long with my Smart CrockPot. But, it's worth a repeat and my husband liked it too! Thanks MizzNezz!
Rub salt and pepper on ribs.
Place in crock pot.
Cover with onions.
Mix remaining ingredients and pour over onions.
Cover and cook on low for 9 hours.