Apple and Raspberry Crumble (Crisp)
WiGal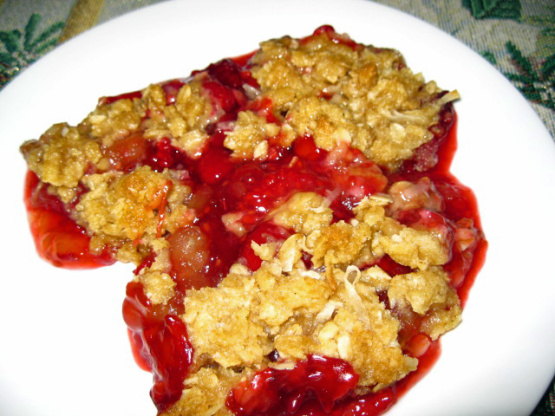 We love apple crumble but I wanted to make something a bit different tonight and came up with this-it's based on my apple crumble recipe though.

We're going apple picking this weekend I was thinking of making Apple Crisp Crumble but this just looks delicious. I love Raspberries.. I may have to use this recipe instead. I'll be back with my review ;)
Heat oven to 190c (350f).
Butter an 8 cup ovenproof dish.
Mix first three ingredients together and pour into dish.
Mix topping ingredients together rubbing in the butter with your fingertips as you do.
Pick up small amounts of the mix, then gently squeeze them together to give you clumps of mix. This makes for a nice texture on the top of the crumble.
Spread the clumps of mix over the pie.
Bake for about 30 minutes or until mix is bubbling around the edges of the topping and topping is golden brown.
Remove from oven and allow to cool for 15-20 minutes.
Serve with cream, ice cream or custard or all of these!