Courtly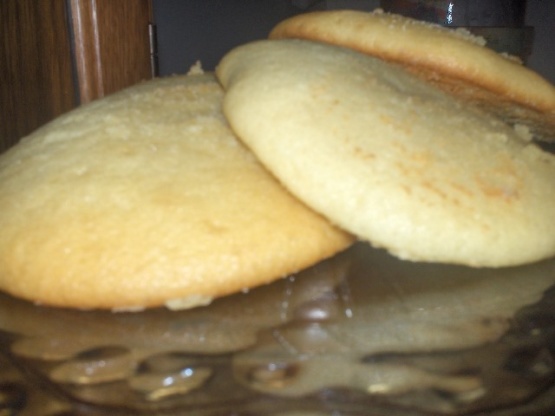 Everyone I've ever made these cookies for describes them as very similar to tea cakes; they are very fluffy with a unique flavor. The recipe was given to me by a close friend of my great-aunt Jackie. They are YUM YUM good!!

Thank you so much for posting this recipe. I have not had these since my grandmother, who was born and raised Amish, passed away. I have been searching for this recipe for so very long. THANK YOU! PS - DELICIOUS!
Preheat oven to 400°F.
In a very large mixing bowl, cream together; eggs, sugar, and oil.
Add buttermilk, baking soda, salt, baking powder.
Gradually beat in flour, and beat until mixture is smooth.
(If you let the batter sit for about 5 minutes after beating in all the flour, it will be easier to put on cookie sheets and won't spread out as much.) Pour by 1/4 cupfulls onto a greased cookie sheet.
Sprinkle tops of cookies with cinnamon sugar.
Bake at 400° for 7-8 minutes. Watch carefully and do not overbake.
If the cookie springs back when touched, it's done.