African-Spiced Cauliflower and Carrot Salad
Rita1652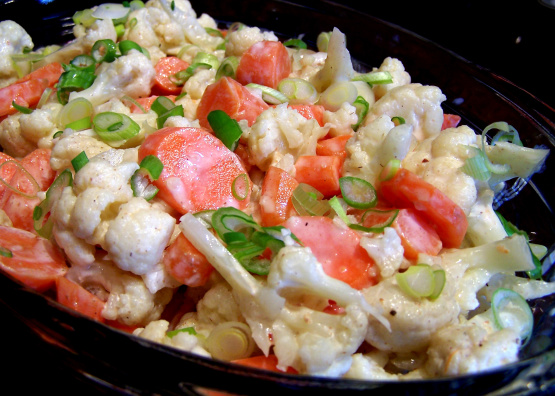 This is a lite and healthy side. In Africa raw vegetables are popular in salads this recipe does call to lightly steam or you can quick blanch them for 4 minutes. Toasting the spices in a skillet brings out their sweet and hot flavors. I made this using 8 cup of carrots and cauliflower combined and just double the dressing. My spices are very fresh and intense so I was able to use less then called for. Adjust to taste and freshness of spices. Th

Another great recipe I'm making for Christmas dinner! Love the flavor of the red pepper, cumin and then a hint of sweetness from the honey. I doubled everything but the sour cream as I did not want to much sauce on the veggies. I also used baby carrots sliced on the diagonal. I thought with the small cauliflower florets in this recipe needed baby carrots (elements of design) to go along with them. You know how big around some of the long carrots can get! Thanks Rita, love this one!!
Steam first 2 ingredients, covered, 2 minutes. Rinse mixture under cold water; drain well.
Combine salt and next 5 ingredients (salt through crushed red pepper) in a small skillet; cook over medium heat 2 minutes or until lightly aromatic, stirring constantly.
Add vinegar while of the heat.
Combine spice mixture, sour cream, and honey in a bowl; stir well.
Add cauliflower mixture; toss well to coat.
Chill for 1 hour.
Top with green onions just before serving.