Absolutely the Best Gluten-Free Peanut Butter Cookies
mammaeve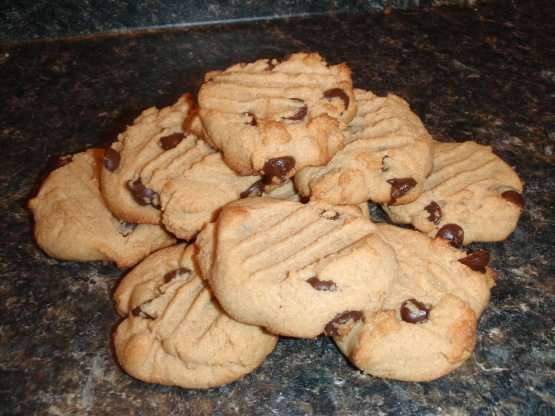 Not just for the celiacs! I was skeptical, since the last recipe I tried was gritty, heavy and nasty. These are light, rich and absolutely perfect. I actually like these better than "regular" peanut butter cookies, and from a big fat Momma, that's saying something! Adapted from Catherine's recipe.

I'm sorry, but we could not get over the bean taste. Maybe different brands of garbanzo bean flour have different taste, but for us, it was too bean-y. Even on day two. Note that many of the good reviews below substituted rice or other flours for the bean flour, and I may give that a try, because they LOOKED fantastic, but they tasted like peanut butter and beans.
Preheat oven to 375.
Make sure you have beaters that can handle thick batter.
In a medium bowl, cream margarine and sugars.
Beat in egg and peanut butter.
In a separate bowl, mix flours and baking soda evenly.
Add in two parts to wet ingredients, beating on med-high speed until thoroughly blended.
Roll dough into 1-inch balls, and place 2 inches apart onto ungreased baking sheet.
You can press them with a fork if desired, but not necessary.
Bake 8-10 minutes.
Let cool 5 minutes before removing from baking sheet.