Absolutely the Best Amish Beef Stew
Karen..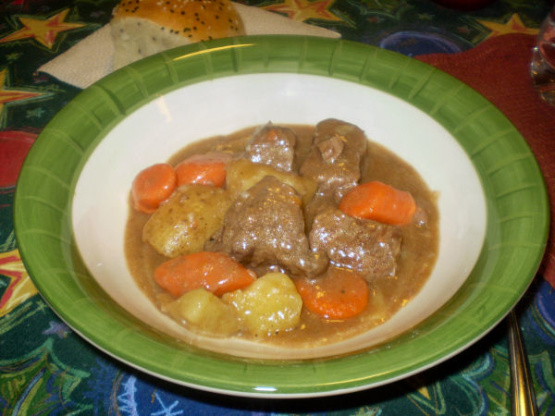 This is just what its name implies...the absolute best beef stew ever. It is wonderful in the colder weather and really warms you up. I got the basic recipe from an old Amish cookbook and tweeked it a bit. My family loves it with home baked bread, so I always make Amish White Bread, Amish White Bread to go along with it.

Yummy stew, nicely spiced. Went over well with the kids. Made it in the crockpot cutting the beef and vegetables into little cubes. Cooked on high for 5 hours. Perfect.
Melt shortening over high heat in a large pot or dutch oven.
Add beef cubes and brown over medium heat, stirring occasionally, about 15-20 minutes.
Add onions, boiling water, salt, lemon juice, sugar, worcestershire sauce, pepper, paprika, allspice and cloves.
Simmer, tightly covered, for about 2 hours, stirring occasionally.
Add vegetables and simmer another 30 minutes (covered), or until tender.
Note: if your lid is not tight on the pot, you may not have enough liquid left to just about cover everything after you add the veggies.
If this is the case, add more water to barely cover ingredients.
Mix cold water and flour together and blend until smooth.
Push meat and veggies to the side of the pot and add flour mixture slowly, incorporating into liquid.
When gravy thickens, stir all ingredients gently to distribute gravy evenly.
Simmer another 5 or 10 minutes and enjoy!