A Different Kind of French Bread Pizza
I'mPat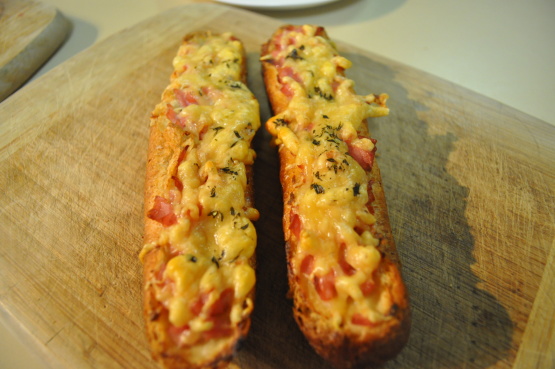 This is a Rachael Ray recipe... I haven't tried it yet

Top Review by I'mPat
Scaled this back for 1 person (me). For the salad I used iceberg lettuce as that is what I had growing (lovely fresh and crisp) and about 3/4 of a lebanese cucumer thinly sliced and as I didn't have any radish I added some extra shallot as per the dressing and I think I may not have got my measure right with the oil in the dressing as it tasted a little oily but well it was a bit of a guess for 1/16 of cup but I think a little lemon juice would be good) and as I didn't add the radish to the salad and I just so wish I had it to add I added a good bit of pepper to the dressing in the hope of adding that peppery taste of radish - didn't quite pull it off but still very refreshing and enjoyable salad to go with the pizza. Now to the pizza - due to dietary restrictions I couldn't use a normal baquette and used a wholemeal/wholegrain hot dog style roll and followed the recipe from there and I must say that using the white sauce base with the honey mustard added a totally different flavour that was very intrigueing and me going mmmmmm but what is it and going what the heck just enjoy don't analyze as my DD tells me. Thank you time3to1dance5, made for PAC October 2011.
Preheat the oven to 400. In a small saucepan, cook butter and flour over medium-low heat, whisking for 1 minute. Whisk in the milk, then season with salt and pepper. Remove from heat and whisk in 1 tablespoon mustard.
Slather a quarter of the white sauce over each baguette quarter, then top with ham, gruyere, and thyme.
Bake until the cheese is bubble, about 12 minutes.
Meanwhile, in a small bowl, combine the shallot andvinegar. Stir in the remaining 3 tablespoons mustard, then whisk in the EVOO.
In a large bowl, combine the frisee, cucumber and radish; toss with the dressing. Serve the salad with the pizza.