4-Step Chicken - Rustic Lemon-Onion Chicken
vrvrvr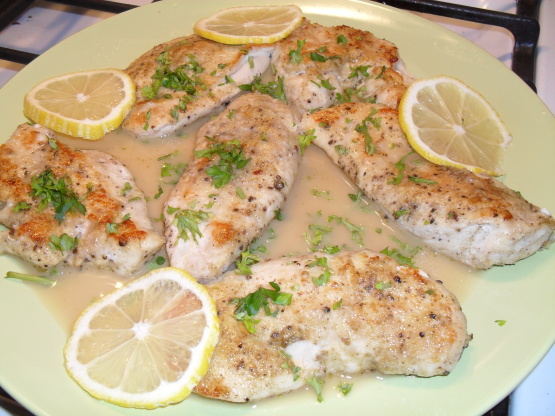 This is Melissa D'Arabian's recipe from The Next Food Network Star.... it looked so good on TV that I wanted to try it!

Loved this. I didn't have fresh thyme, but dried thyme worked just fine for us. The sauce was delicious-- tangy & flavorful, but not overpowered by any one ingredient (in my opinion). I did use the white wine (pinot gris) for the sauce & then swirled in the butter at the end. I should also note that I juiced 2 lemons & used the zest from one of them (instead of juicing 3 lemons). Overall I thought this recipe was very good not only b/c it has great flavor, but also b/c this dish is relatively quick to put together. Not complicated at all. I will definitely make this again. Thanks for posting! :)
Season chicken with dried thyme and salt and pepper. Heat a large saute pan over medium heat and add the oil. Dredge the chicken in flour, add to the hot oil and saute until cooked through. Set chicken aside to rest on plate tented with foil.
In same saute pan, over low heat, add onions and fresh thyme and cook until aromatic.
In a measuring cup, measure out wine, if using, and broth, and add the lemon juice. Turn the heat up to high, and deglaze the pan with the broth mixture until starting to reduce.
Remove the pan from the heat and finish the sauce by whisking in butter. Season with salt and pepper, to taste.
Place the chicken on a serving platter. Spoon the sauce over the chicken and serve.