White Chocolate Grasshopper Pie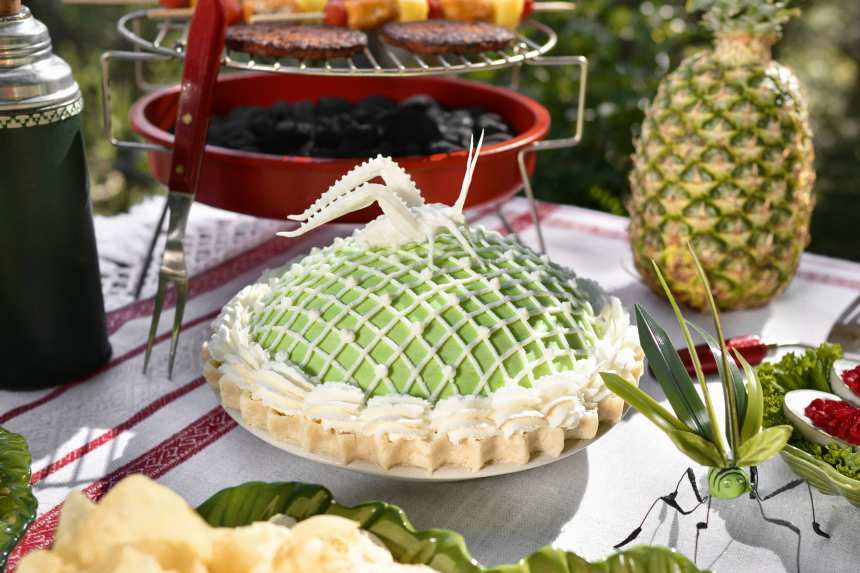 photo by ChristineMcConnell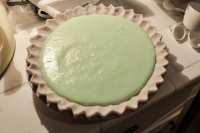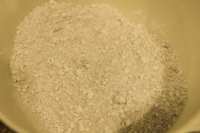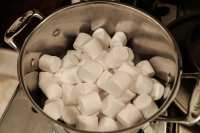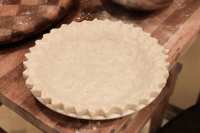 Ready In:

3hrs 40mins

Ingredients:

22
directions
PIE CRUST:

Heat oven to 350 degrees F.
In a medium mixing bowl combine flour, baking soda and baking powder. Set aside.
In a stand mixer, cream butter. Add sugar egg and food color. Mix until light and fluffy then add dry ingredients. Mix until dough forms.
Press dough out onto a 16x12 cookie sheet lined in baking paper. Roll out to a uniform thickness (about 1/8 of an inch) and bake 10 minutes until JUST starting to brown.
Note: You want your crust to be as light as possible so trim and discard and browned sections when out of the oven and cooled.
Once cooled, crumble into large pieces and place in a food processor and pulp until in fine crumbs then place crumbs in a mixing bowl. If you don't have a food processor? Throw them in a sturdy Ziploc bag and whack with a rolling pin ;).
Repeat process with two cups white chocolate chips and add to that same mixing bowl. Add melted shortening and mix until a pliable dough forms. Press into an 8" pie dish and create crimped edge with your fingertips.

FILLING:

Place 1/8 cup water in glass bowl and add gelatin then allow to bloom. In a large pot gently melt down marshmallows on low/medium heat stirring constantly. Once in cream state, add half and half, Crème de Menthe, whipping cream and bloomed gelatin. Heat until just about ready to simmer. Remove from heat and allow to cool about 15 minutes. Place in a stand mixer and mix for 5 minutes. Pour half mixture into your prepared pie dish and the remaining mixture into a domed mixing bowl lined with plastic wrap. Place both the pie and the bowl into a freezer overnight.
In the morning, carefully remove the filling from the bowl handling only the plastic wrap and flip onto your frozen pie for a domed effect. (It's jiggly and this is tricky, so know that going in!) Place back into freezer until ready to decorate.

Stabilized Whipped Cream:

In a saucepan add water and gelatin. Allow to bloom 5 minutes. Begin heating on medium and stir constantly until it just begins to steam and remove from heat. Wait until mixture is back at room temp before next step.
In a stand mixer fitted with a whisk attachment beat whipping cream and sugar on high until soft peaks begin. Then continue beating and pour gelatin mixture in a steady stream. Beat until stiff peaks form. Place in a piping bag and decorate your pie immediately. Place back in freezer.

Grasshopper Decoration:

Heat 3/4 cup white chocolate on low on stovetop until completely melted and in a liquid state. Add corn syrup and mix nonstop until dough forms: This is your modeling chocolate.

Decorative Direction:

Use modeling chocolate to shape legs and feelers for your grasshopper and adhere pieces together with the remaining white chocolate melted down. Any remaining melted chocolate can be placed in a small parchment piping bag and used to do the fine decoration and smoothing of the grasshopper. Place finished chocolate insect on top of your decorated pie. Serve immediately or freeze until ready for company.
Questions & Replies

Got a question?
Share it with the community!