Vegetarian "meatballs"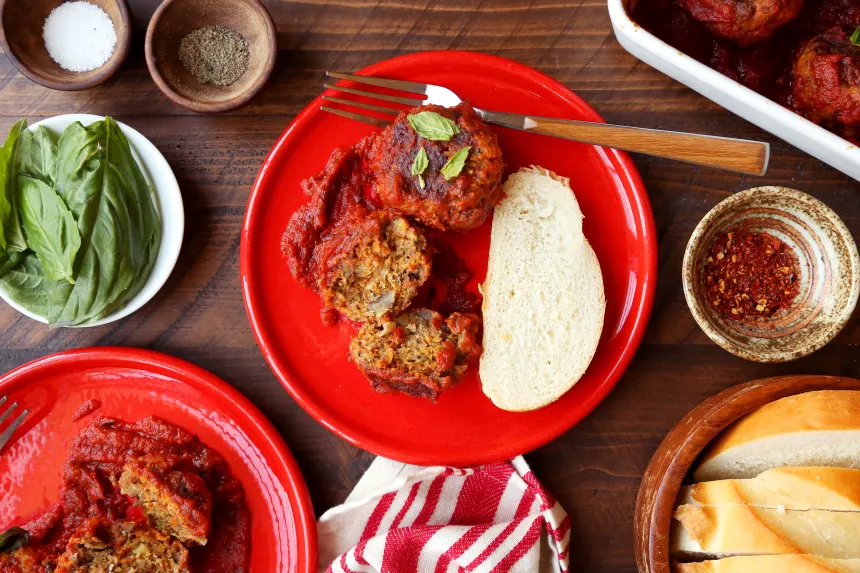 photo by Jonathan Melendez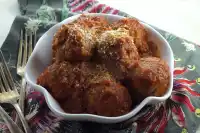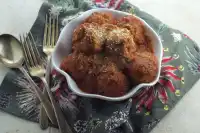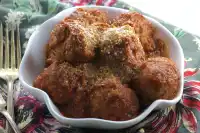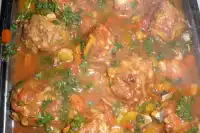 Ready In:

2hrs 30mins

Ingredients:

6
ingredients
4

eggs, slightly beaten

1

(1 1/4 ounce) envelope Lipton Onion Soup Mix

2

cups grated cheddar cheese
3⁄4 cup chopped walnuts

1

cup dry Italian style breadcrumbs

2

(1 1/4 ounce) envelopes vegetarian broth (I use G.Washington brown broth)
directions
Mix first five ingredients together in order.
Refrigerate for 30 minutes.
Form into 1-1/4 inch balls and place on baking sheet sprayed with Pam.
Bake in 400 degree oven until brown, about 20 minutes.
(May be frozen now.) Place meatballs in casserole and cover with 2-3 cups boiling water and 2-3 cubes or envelopes vegetarian brown broth.
Meatballs should be within 1/2 inch of being covered with liquid.
Bake, covered, at 350 degrees for 1 hour (1-1/2 hrs if meatballs are frozen).
Or meatballs may be prepared in a crockpot on high setting for 1 hour (or 1-1/2 if frozen).
Questions & Replies

I saw some stuffed peppers with a *crumbly* filling the other day that looked delicious, and I had been thinking that this might be good as a pepper stuffing, minus the stuff that makes it stick together. What would you do differently? Minus the egg? Or leave the egg, but don't mash it together? Reduce the egg so that it's not as sticky? I am terrible in the kitchen and must follow a recipe, so I'm not good at tweaking on my own... thanks for any help you can give.

 
Reviews
I think that the people who thought it was too salty were putting the broth packets into the meatballs, (understandable because the first instruction says to 'Mix all ingredients together," which is really not correct). The broth packets are used later in the recipe and should not be mixed in. .... I thought they were delicious and not too salty at all; I served them with a sweet & sour sauce.

 

These are out of this world delicious! My boyfriend (like other reviewers I noticed) said he likes these better than meat-meatballs. I used whole wheat breadcrumbs and added oregano, basil, parsley, and garlic powder (just eye balled the amounts). During the initial baking stage, make sure to turn every 5-10 minutes or they will stick and burn. Once they had cooked for 20 minutes I covered them in marinara sauce to bake for an hour. There are so many variations on how to make and use them (read other peoples' reviews like I did for ideas). These are going into my regular rotation. I love them!!! :)

 

All in all these were among the best vegetarian meatballs I have had. They were also quite easy. I would definitely not say that they taste just like meat but I think a carnivore would happily eat them on occassion. They kind of just taste like flavorful cheesy stuffing/dressing balls. That being said, I will definitely make them again but with a few possible modifications. <br/><br/>1) Incorporate some mashed up silken tofu to make them a little more dense and a little less spongy. <br/><br/>2) Use a combination of mozzarella and cheddar to cut the calories and hopefully make them a little more Italian tasting. Potentially even include a tiny bit of parmesan. <br/><br/>3) Use plain bread crumbs and cut out all the soup mixes, instead adding my own dried garlic powder, onion powder, basil, marjoram, oregano and thyme. It will give me more control over the exact flavor of the "meatballs."<br/><br/>4) Go easy on the chopping of the walnuts. It's nice to have little chunks in the meatballs for extra texture. <br/><br/>5) Fresh onion and garlic...would be amazing.

 

The veggie meatballs are part of our regular roation of meals at my house. These are EXCELLENT. When i first made them I did not have the Lipton Onion Mix so I added some Onion power but now I don't even bother as it is flavorful enough at it is. Also, there are times when i don't bother to bake the meatballs for the remaining hour. This is fine if you eat all of them but be warned that they might dry out if you need to reheat them the folowing day. You may need to rehydrate them (i.e. sprinkle some water on them) before you pop them in the microwave.

 
Tweaks
Amazing...but I tweaked it - instead of bread crumbs, I substituted with nutritional yeast. Instead of cheddar cheese, I substituted with mozzarella and provolone cheese to cut down on calories. I substituted almonds instead of walnuts and I used lipton onion garlic soup mix. It was absolutely delicious. Also to the vegetarian broth, I added a homemade marinara that was SCRUMPTIOUS. Eat this with cheesy mashed cauliflower for a great meal. Enjoy.

 

I repurposed the left overs into taco meat by processing in my food processor then mix taco seasoning and water into it. Phenomenal! As for seasoning, they were delicious meatballs but for personal preferences, I felt the seasoning / Lipton Soup was a little strong so may measure it out and then remove a quarter of it or add extra of the other ingredients. All in all, amazingly delicious!

 
RECIPE SUBMITTED BY
I'm an RN with a major interest in healthy food - especially vegetarian recipes. If I had a month off, I'd work in my garden, try new recipes and read.
View Full Profile