Ube Cupcakes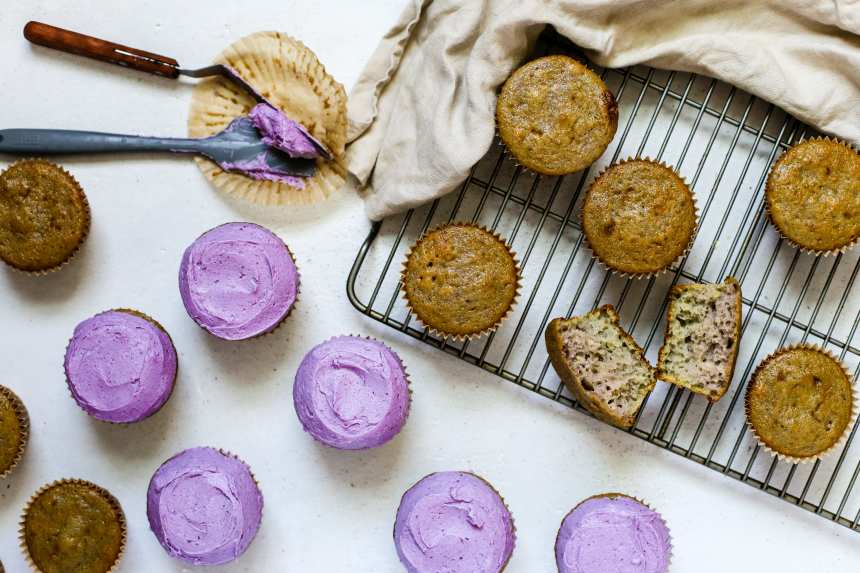 photo by Ashley Cuoco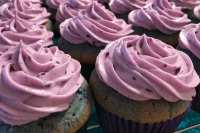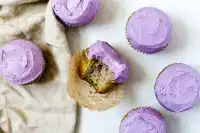 Ready In:

52mins

Ingredients:

11
directions
Peel and slice the yams into inch thick slices. Transfer into a medium pan, rinse, then cover with cool water. Bring to boil and simmer until tender. Mash with a fork.
Crack eggs into a large bowl. Beat with a whisk until yellows and whites are combined.
Gradually add sugar and whisk until combined.
Add oil and whisk until combined. Add chopped macapuno, mashed yams and vanilla and stir with a wooden spoon to combine.
Sift together flour, baking powder, baking soda, and salt in another bowl.
Add about a third of the flour mixture to the wet mixture and mix to combine.
Add about one half of the buttermilk and mix to combined.
Repeat above, alternating flour and evaporated milk and ending with the flour mixture.
Scoop into cupcake papers about half to two-thirds full (depending on whether you want flat or domed cupcakes. Note that these cupcakes will don't shrink. Two-thirds full will result in domed cupcakes.).
Bake for 22-25 minutes until a cake tester comes out clean.
Questions & Replies

Hey, Chiming in here. Looking forward to trying this recipe. I work as a professional chef. 350F is cupcake baking temp. This isn't listed and hope it helps. Wondering how much cool water was used in the boil? It says to cover (but how much?). An inch over? Just submerged? For consistency, a liquid amount in mL and Ube in grams or oz would be helpful. Thank you!

 

These sound interesting, but can't see wasting time making them without knowing for sure if chopped macupano is mashed yams and if it isn't, what is it, and when do you mix in the mashed yams and is there a volume measurement for them. And do you use buttermilk or evaporated milk. Also would be nice to know the icing recipe in the photo.

 

It looks like I was going to ask the same questions as the posters before me concerning the "macapuno" and the buttermilk v. evaporated milk...It also looks like the 1st question was asked about 3 months ago with no response. This looks like an interesting recipe and I'd like to try it (although I have no idea where to find purple yams).

 
Reviews
Macapuno is a preserved young coconut, really sweet, and you can get it in an Asian store. It comes in a jar. Ube is the purple yam. I'd go with evaporated milk. I grew up in the Philippines and we don't use buttermilk (of course I didn't cook or bake back then). And ube is one of the most delicious dessert there is! I'm gonna try making this soon.

 

I submitted a post earlier stating I would love to make this recipe, however it was not a complete recipe .I stated that the baking time was missing and also the recipe for the beautiful purple frosting was not there. I got an e-mail rejecting my post. I see nothing offensive in my post. Why was it rejected?

 

People's perception of "large" can be vastly different! It would be more helpful to say how many cups of mash are obtained from 2 "large" yams. It would also help to know an equivalent for those of us who may not always be able or willing to get or chop that particular coconut, or don't have an Asian store nearby. How about giving an amount for reconstituted dried coconut that we all can get in a supermarket? And nothing is offered about the purple frosting in the picture! And the missing oven temperature?