The Godfather's Spaghetti Sauce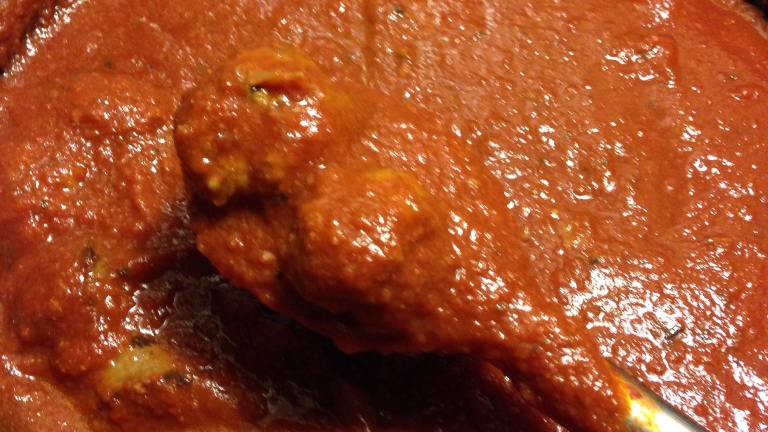 It is claimed that in 1973, Glamour Magazine posted this recipe based on a scene in the movie "The Godfather": "Heh, come over here, kid, learn something. You never know, you might have to cook for 20 guys someday. You see, you start out with a little bit of oil. Then you fry some garlic. Then you throw in some tomatoes, tomato paste, you fry it; ya make sure it doesn't stick. You get it to a boil; you shove in all your sausage and your meatballs; heh…? And a little bit o' wine. An' a little bit o' sugar, and that's my trick." --- Clemenza in 'The Godfather'
Ready In:

45mins

Serves:

Units:
directions
Heat the oil over medium heat in a large pot.
Add garlic and cook for a few minutes. Do not let the garlic burn.
Add tomatoes and tomato paste. Cook for about 5 minutes, stirring continuously so that a relatively smooth consistence is reached.
Add sausages and meatballs and stir until the meat is coated.
Add a splash of red wine, then the sugar according to taste.
Reduce heat to medium-low and let simmer for a minimum of 20 minutes, stirring occasionally to prevent scorching.
Serve by ladling over cooked pasta.
Tip: It's not in the movie, but a teaspoon each of basil and oregano is suggested.
Tip 2: If you're using canned whole tomatoes, draining them and then crushing them by hand will result in a chunky sauce. Canned crushed tomatoes will create a slightly thinner sauce, while canned chopped tomatoes will result in a thicker sauce.
Submit a Recipe Correction
RECIPE MADE WITH LOVE BY
"It is claimed that in 1973, Glamour Magazine posted this recipe based on a scene in the movie "The Godfather": "Heh, come over here, kid, learn something. You never know, you might have to cook for 20 guys someday. You see, you start out with a little bit of oil. Then you fry some garlic. Then you throw in some tomatoes, tomato paste, you fry it; ya make sure it doesn't stick. You get it to a boil; you shove in all your sausage and your meatballs; heh…? And a little bit o' wine. An' a little bit o' sugar, and that's my trick." --- Clemenza in 'The Godfather'"