Old World Italian Spaghetti Sauce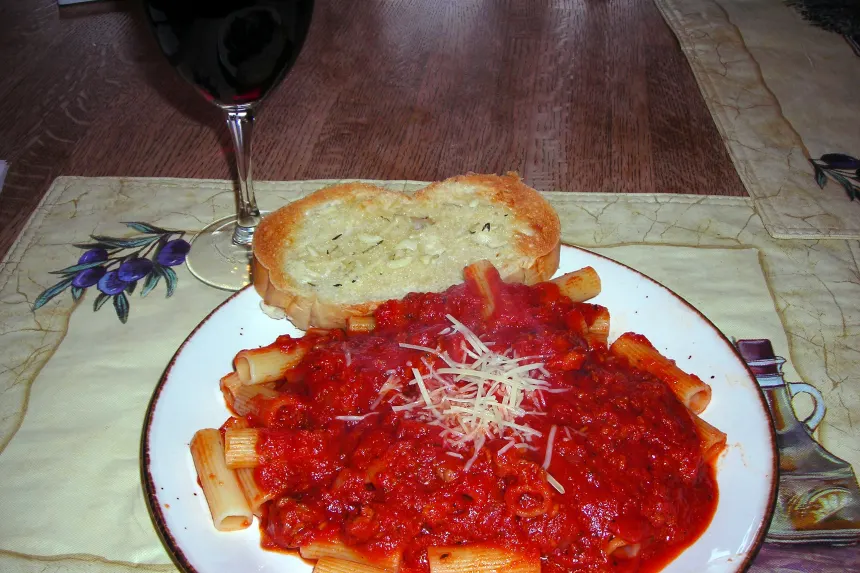 photo by slickchick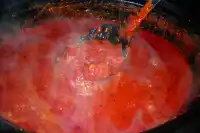 Ready In:

3hrs 25mins

Ingredients:

16
directions
In a large stockpot on low-med heat add your olive oil and saute your onions for about 4 minutes,then add your crushed garlic,cook for 2 minutes longer. Then add your water,and tomato products. Be sure to mix everything very well.Add in your spices,and cheese. cook for 2 1/2 hours covered.Then add in your wine, and cook 30 minutes longer. Sauce will be thin on first day.Also if you use meat it will alter thickness.The second day this turns into a nice thick sauce.
Questions & Replies

Reviews
The aroma that filled our kitchen today was tantalizing! This robust sauce certainly was worth the wait. This is different than any other sauces that we've tried...for us it was very "fruity" in flavor. I'm not sure if it was the combination of herbs or the brand of tomatoes - all in all it was extremely delicious and very hearty. Ours was not at any point thin and coated the pasta perfectly. Your "old world" description is appropriate but we would even venture to call it "out of this world". Thanks FarahC!

 
Tweaks
This sauce had a great flavor. It really did taste like an Old World recipe! It was neither too sweet nor bland. It was not spicy, but it was not flat either. I was glad you warned it would be thin. It was indeed very runny. Only the tomato chunks stayed on top of our spaghetti. But, the flavor was so wonderful I didn't care. I had to make alterations for my ingredients and lifestyle. First, I used a crockpot. I had to substitute tomato paste and water for the tomato puree. I only had cans of whole tomatoes instead of crushed, so I put those in the blender. I was out of basil, so I used parsley. We don't have any wine in the house, so I substituted cranberry juice. The cranberry juice was put in much sooner than wine would have been so it would meld with the other ingredients. I couldn't believe how authentic it tasted. I was frightened to use a fruit juice, but I recommend it heartily. Yum. We had premade, frozen non-Italian flavored meatballs, and they went well with the sauce too. I don't think we could have served anything that would have detracted from its flavor. This made a TON of sauce. I ended up storing the leftovers in 4 freezer bags. Each had a one-gallon capacity, and I think they were 1/4 full. I tried to divide into portions similar to what we used for dinner that night. This would be great for making batches to freeze, or it works well for huge families. Maybe it was so runny because I had to substitute for the crushed tomatoes. I might have had more juice. I didn't know if I was supposed to drain them or not. I ended up reducing the water to accommodate the extra juice from the canned tomatoes. Maybe if I had not used that juice, mixed my own puree and used an alcohol substitute that wouldn't have evaporated, I wouldn't have had such a runny sauce. That is the only reason I ranked this a 4. It was so sloppy it splashed on my shirt, face, arms and table.