Authentic Italian Tomato Sauce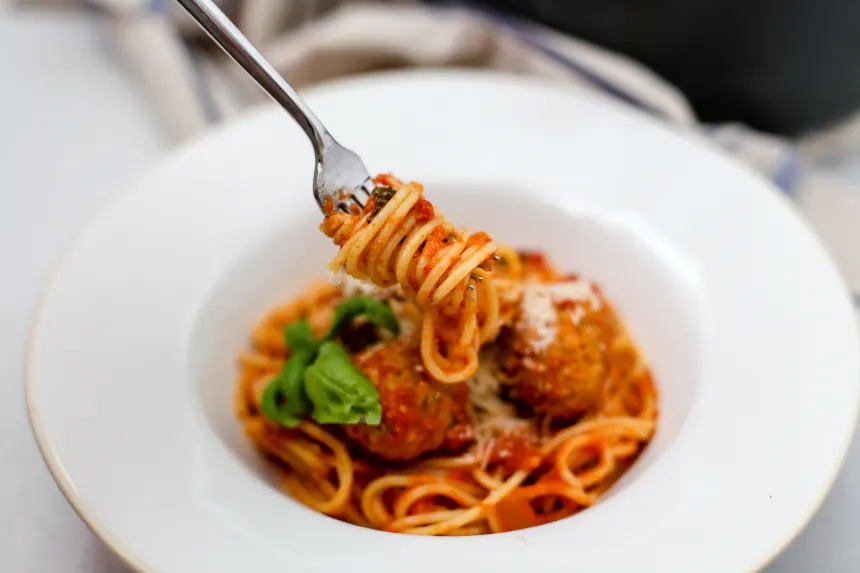 photo by Ashley Cuoco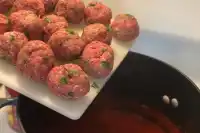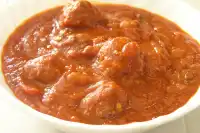 Ready In:

3hrs 20mins

Ingredients:

11
directions
In a large pot, sauté onion and garlic in olive oil.
Empty plum tomatoes into large bowl and squash with your hands.
Add all ingredients (including any meatballs or sausage you want to add) to pot and simmer for 3 hours.
Questions & Replies

I have never seen a tomato sauce recipe with cloves in it. And I have read hundreds of them. I find this to be odd, and it would be very distracting in a real Italian sauce. And I would think there would be 6 cloves of garlic instead of 2. But I find it hard to believe that cloves would taste good in an Italian tomato sauce. Is anyone else seeing this or have made this and agree ??

 

This is my go to sauce recipe. I've made it probably 15 times and we love it. It often burns to the bottom of the pot even though I have it on the lowest setting. I simmer it covered. The only real change I make is I will use a large onion instead of small. Any ideas? This Irish boy never had a Nonna to tell him what to do!

 
Reviews
I wanted to add my experience regarding how you saut? the onion and garlic in the same pan and then adding sugar to the recipe. Here is what I%u2019ve learned from my own cooking experience and from reading hundreds of recipes. Many recipes tell you to saut? the onions in the same pan in which you make your sauce as it adds more flavor to the dish. The recipe as posted says to use olive oil and if you have that in the bottom of your pan, you are not likely to burn the onions unless you are saut?ing them at too high a heat. Any sticky bits should then be scraped up as you are adding the other wet ingredients (tomatoes). This only adds flavor, unless you%u2019ve burned them. So cook slowly only until onions soften. <br/>As for sugar being added to the recipe, I have two things to say. The poster of this recipe, %u2018InMemoryofBrats%u2019, says that this recipe was given to her father from a lady from Italy. Most people from Italy didn%u2019t use canned (from the store) tomatoes; they would have used fresh or something they canned themselves. Tomatoes and the sweetness of those tomatoes vary from season to season and sometimes from fruit to fruit on the same bush. To avoid bitterness that some tomatoes have, you can add sugar to make up for not having a sweet tomato. So, check your sauce and if you feel it%u2019s too bitter, add some sugar, a little at a time. Of course then there are some people that just love a sweeter sauce and for them, the two tablespoons of sugar may be needed. I just wanted to clarify this to new cooks and hope it helps someone.

 

Beware Brits. If you are cooking this then don't do what I did and use the tomato puree as we know it in UK. As I have since found out, the Americans call what we call Pasatta, Tomata Puree. In UK tomoato puree is the thick concentrated stuff that the Americans call tomato paste. It was like wallpaper paste when finished and a bit too tomatoey, but i still ate it, not wasting that many meatballs :). Anyway, since finding this out I have re-tried the recipe with tomata pasatta instead of puree and it is an absolute gem of a recipe. thanks.

 
Tweaks
I thought this sauce was already amazing, however I had to tweak it for the family. I used fresh basil and omitted the cloves. Instead of sugar I used carrots which were steamed then pureed. And for the grated cheese I used asiago. I didn't add the carrots until about half way through. Family is happy, so I am happy.

 

OMG - this rocked! This was my second attempt at making it - the first time, I used fresh vine ripened tomatoes instead of canned plum tomatoes and your sister kindly informed me that was why it didn't work. Luckily, the second time was a charm. Absolutely delicious - I used a bit more basil and garlic. We loved this!! Thanks so much for posting!

 

This recipe has been our go to for italian night. I only put 2 whole cloves instead of 6. I found that six was overpowering. I use 1 tbsp of olive oil for cooking the onions and garlic and then I put in 1 more tbsp with the other ingredients instead of the 1/4 cup. I also use a parmesan Romano blend for the grated cheese.