Sugar Dusted Cranberries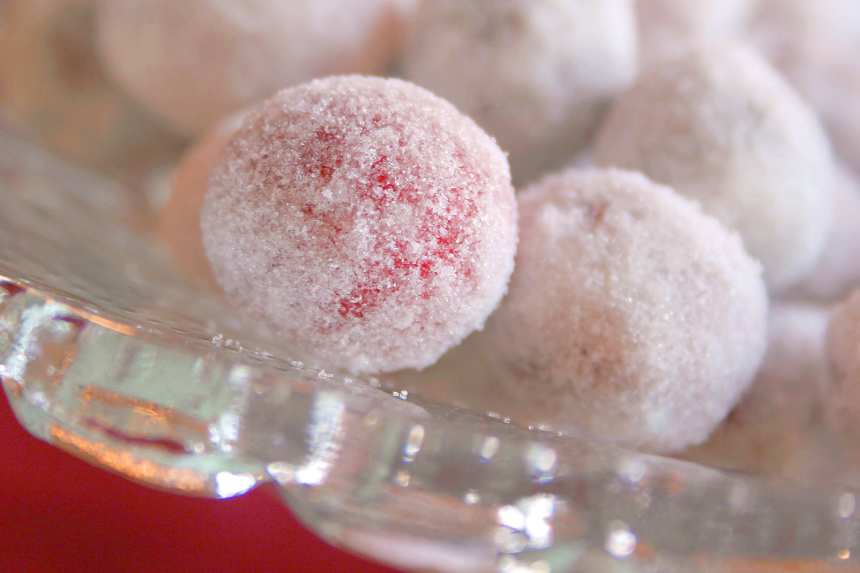 photo by GaylaJ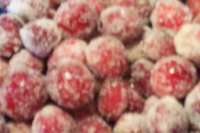 Ready In:

10hrs 15mins

Ingredients:

6
directions
Combine cane sugar, cinnamon sticks, cloves and 3 cups of water in saucepan.
Bring to a boil over medium heat. Simmer until sugar dissolves, stirring occasionally.
Pour into a glass bowl, and stir in cranberries. Cover, and refrigerate 8 hours.
Drain cranberries. Reserve liquid, straining out cinnamons sticks and cloves, for use as a syrup to add to Cosmos or Cape Cods.
Toss cranberries with superfine sugar in large bowl until coated.
Place on baking sheet lined with parchment paper.
Let dry 2 hours.
Reviews
Yummy! To coat them I used about half cane sugar and half powdered sugar. I put them in the sugar in small batches and tossed them with forks and used a strainer spatula to shake off the extra sugar. They looked amazing and not clumpy! Plus, I kept my hands clean. I also soaked them for about 12 hours, just out of personal timing.

 

How neat! These were wonderful! The syrup creates a nice crunch once it dries, and it pops in your mouth. I discovered that it was easier for me to drop the cranberries into the superfine sugar (I used powdered), toss to coat, then put them in a small strainer and shake all the excess sugar out. Then I could just dump them onto the baking sheet & they would still be pretty & round & not "clumpy". By the way, that picture by GaylaJ is GORGEOUS. Thank you for sharing this lovely recipe.

 

These were a lovely and elegant addition to a new years eve party. I was looking for something that people would really notice - something out of the ordinary. These fit the bill. They are festive and yummy, although I thought that the texture was a little soft and they were a little messy to eat. They do not keep very well, so I was very glad that I made them the day of the party (a little challenging with a 10 hr prep time). Still, I would make them again. They are so unusual and look beautiful. These would make a fantastic garnish if you were really trying to impress. Thank you for posting the recipe.

 

Mine aren't nearly as pretty as GaylaJ's but they do taste great! I had two cups of berries so reduced the recipe accordingly. Mine got a bit clumpy so next time will follow another reviewer's method of using forks and a strainer in small batches to shake off excess sugar. Thanks for posting this Lawsome!

 
RECIPE SUBMITTED BY
<p>Favorite Restaurants and Dishes: <br />Brio Tuscan Grill - Frontenac, MO <br /> -Potatoes Brio <br /> -Bistecca Salad(with chopped lettuce) <br />Harry's Seafood - Jacksonville, FL <br /> -Seafood Linguine <br />Cardwell's - Frontenac, MO <br /> -Chips with homemade sauces <br />Hayashi - Bloomington, IL <br /> -Shrimp Tempura <br /> -Unagi Maki <br />The Park Bench - Quincy, IL <br /> -Ham, Spinach &amp; Swiss Quiche <br /> -Creamy Mushroom Soup <br /> -Veggie Sandwich <br />The Water Grill - Los Angeles, CA <br /> -Clam Chowder <br />Juniper Grill - St. Louis, MO [No longer in business] <br /> -Filet Mignon with Cabernet Sauce <br /> -Corn Chowder <br /> -Brioche Bread Pudding <br />Eleven Eleven Mississippi - St. Louis, MO <br /> -Ribeye with Tillamook Cheddar Gratin <br /> -Seasonal Mushrooms with puff pastry <br />St. Louis Bubble Tea - University City, MO <br /> -Strawberry Yogurt Snow with Boba <br /> -Crispy Chicken <br /> -Combo lo mein (with pepper flakes) <br />Pop's Pizza - Quincy, IL <br /> -Pepperoni Stromboli <br /> -Cheese sticks with alfredo sauce on crust <br /> -Dessert pizza <br />Pi - St. Louis, MO <br /> - Southside Classico Deep Dish <br /> - Thin Crust Pepperoni <br />Terrene - St. Louis, MO <br /> - Mixed Fry <br />Heaven on Seven - Chicago, IL <br /> - Shrimp Po'Boy <br /> - Shrimp Corn Chowder <br />Kampai - St. Louis, MO <br /> - Yummy Roll <br />Rooster - St. Louis, MO <br /> - Slinger <br />Sqwires - St. Louis, MO <br /> - Pecan-Crusted Rainbow Trout with Mashed Potatoes <br />The Brown Hotel - Louisville, KY <br /> - Hot Brown <br />The Gumbo Shop, Rock Hill, MO <br /> - Blackened Catfish with Jambalaya <br /> - Shrimp Po' Boy</p>
View Full Profile