Rosemary-Lemon Custard Cakes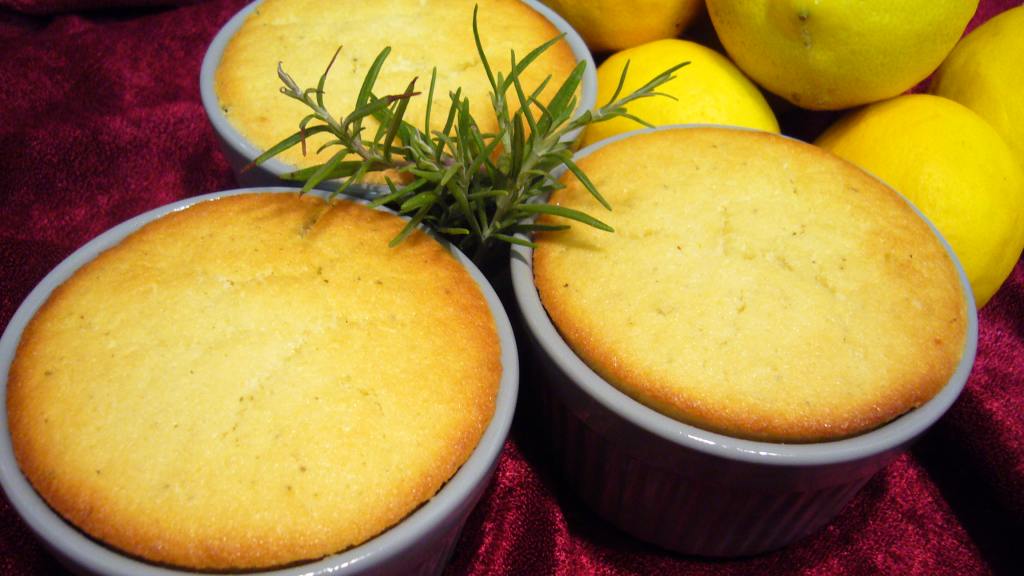 Ready In:

55mins

Ingredients:

10
directions
Beat egg whites with a mixer on medium-high speed until foamy.
Gradually add 1/4 cup sugar, 1 tablespoon at a time, beating after each addition; beat until peaks form.
In a separate bowl, beat 1/2 cup sugar with butter on medium speed approximately 5 minutes until well blended.
Add flour through salt; beat well.
Add yolks and milk; beat well.
Stir 1/4 of egg whites into batter, then gently fold in the rest of egg white mixture.
Spoon into 6 (6 oz) custard cups coated with nonstick cooking spray.
Place cups in a shallow baking pan and add hot water around cups to a depth of 1 inch.
Bake at 350° 45 min or until set.
Remove cups from pan.
Join The Conversation
Ok I'm very much a novice so found this recipe a little difficult.<br/>No instruc5tion in the method of when to add the lemon rind and juice so I mixed it with the butter and sugar before adding the flour and salt.<br/>When adding the eggs and milk to the butter and sugar I ended up with a lumpy mess, so I guess I should have added them gradually?<br/>Must have over whipped my egg whites as they broke into small lumps when trying to fold in to the mixture. So I'm guessing whip to soft peaks rather than stiff?<br/><br/>The end product though lacking finesse was lovely, light and tasty. So I will definitely make them again correcting my errors.

 

After trying this dessert after it cooled to room temperature, I was going to give it 4 stars. The flavor and texture were nice, but I thought the lemon was a bit too subtle. However, after I tried a completely cooled (from the refrigerator) I had to move it up to 5 star. It was nice at room temperature, but fabulous cold! When cold, the lemon flavor is perfect!

 

Excellent recipe. Have made twice, first time I served these after they were cold, the second time while they were warm. Much better when they are warm! Only problem was my children referring to the "pine needles" in the dessert ---- since they ate everything and asked for more --- I assume it wasn't a real problem!

 

Wow, these are fabulous. Very light and fresh tasting. Perfect after a flavourful meal. We had a prawn curry tonight and this left you with a lovely fresh flavour. I think if you were in a flash restaurant somewhere and were served these you wouldn't pick the rosemary flavour. It's there and compliments the lemon beautifully but isn't at all overpowering, just perfect. Thank you echo echo, this one goes into my favourites cookbook.