Roll Kuchen (From the Mennonite Treasury of Recipes)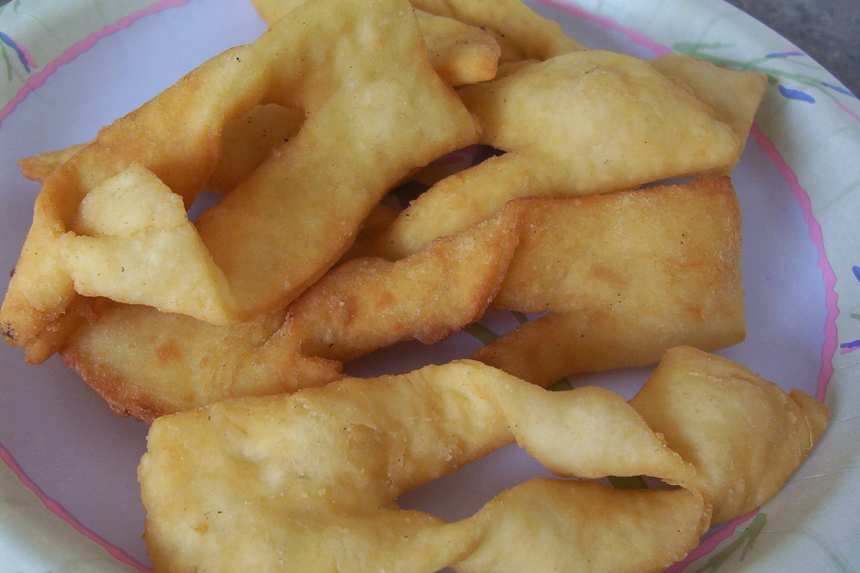 photo by Pamela

Ready In:

18mins

Ingredients:

6
directions
Beat eggs well.
Put into a 1 cup measuring cup and fill with milk. (This may end up being more or less than the 3/4 cup listed in the ingredients.)
Add to remaining ingredients and mix to combine.
Roll out very thin and cut into strips.
Cut again so that pieces are approximately 1 inch long by 3 inches wide.
Cut a slit in the middle and pull one end through to knot it.
Fry four to six at a time, in deep hot fat until golden brown.
Serve with Watermelon!
A Mennonite summer tradition!
Reviews
I am 71 years old, and as far back as I can remember, we have used this recipe with watermelon. We didn't eat watermelon without it! It was always salted, never used with sugar or jam. I guess this was our family tradition. This is a wonderful recipe! Thanks for sharing!! I tried this again since I wrote this review the first time. Made a new discovery! We had a few left over which does not happen very often. I froze them. Today we Bar B Que'd and I decided to try some of the frozen ones. I thawed them to room temperature and then brushed them with Bar B Que sauce! Wow! I put them on the grill away from the fire and they took on the smoke taste along with the sauce. Talk about bread with Bar B Que!! This is fantastic!!! Again, thanks for posting this!

 

This is so much like the Fattigman (Poor Man's Cookies) I grew up on. My mother made these every Christmas and stored them in a Charley Chip's Can. I would do my best to eat them all before my 4 other sisters got to them. Fattigman's used sugar and Cardamom and sprinkled with Powdered Sugar after they are fried. They looked just like your Roll Kuchen. I am going to try your recipe to see how close they taste to my recipe.

 

I've also used this recipe for years. Sometimes I substitute a 1/2 cup sour cream and 1/4 cup heavy cream for the milk, but only if I already have it in the house! I would never dream of dipping my rollkuchen in sugar or jam, we salt it lightly while it's still hot and ALWAYS make a double batch or more! Yum!

 

LOL, I love Roll Kuchen! This is the same recipe I have been using for years and I can easily rate it with 5 stars. Delicious, traditional and pretty easy to put together! A little story....when I first met my DH, he took me to his parents home one hot summer evening to meet is family. His Mom served Roll Kuchen and watermelon, with some syrup to dip the roll kuchen in, which I had never seen or had before. I nibbled at a bit of yummy Roll Kuchen and had a piece of watermelon, sure that there would be more food to come...I didn't want to fill up! Well, then they started clearing the table and doing dishes...I realized that this WAS the meal LOL!! A traditional Mennonite summer meal, of which I was unaware. I made my soon to be DH take me to "The Hut" for some Jakeburgers afterwards.....I was still starving! Anyway, thanks for posting a terrific recipe Pamela!!