Rocky Mount, Nc BBQ Chicken (Sandwiches)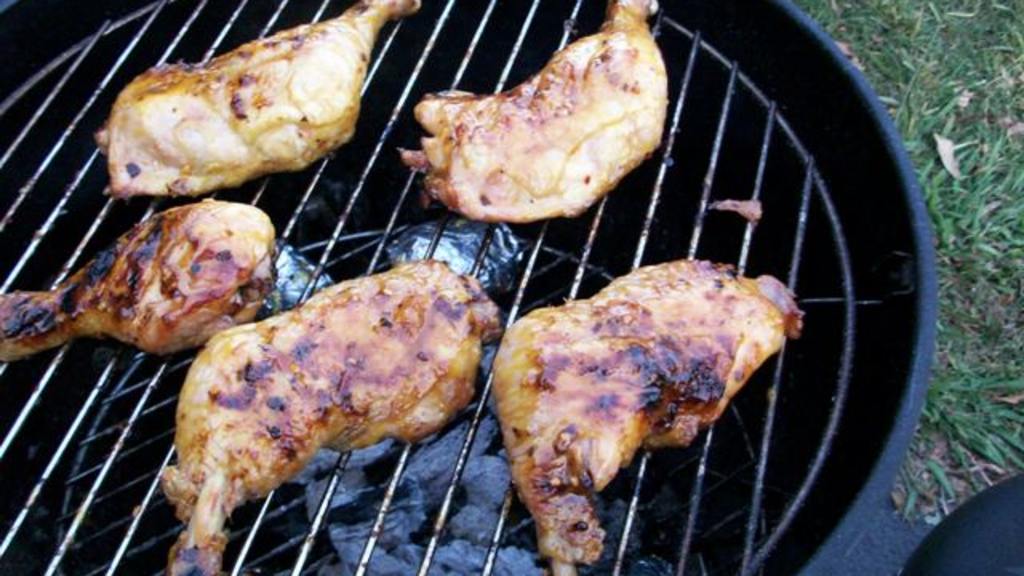 Ready In:

1hr 10mins

Ingredients:

5
directions
Do this a day or two before to meld flavors: Put crushed red pepper into the vinegar bottle (using a shaker type bottle or punch holes into the vinegar cap with a knife or fat nail). How much of the crushed pepper you let out onto the chicken is up to you, dependent on how big the holes are.
This recipe is normally cooked with the grill lid off. Place chicken pieces on the grill, and sprinkle the red pepper vinegar onto the chicken and also frequently during cooking and flare-ups. Continue cooking until chicken is cooked thru, turning occasionally. About 45 min to 1 hour.
When the chicken is thoroughly cooked, baste both sides of chicken with the honey mustard sauce. cover grill and cook for an additional 2-3 minutes.
Serve between 1-2 slices of white bread and eat sandwich style around the bones.
Join The Conversation
I really loved this! I cut the recipe back to just use three thighs, then let the vinegar and pepper flakes marry for two days before cooking. I loved how the vinegar acted as a flame-tamer and a baste at the same time. This is one of the only times grilling chicken where I didn't end up with charred, black skin that had to be discarded. I'll definitely use this method for grilling skin on chicken again! One diner didn't want the honey mustard, so I pulled his chicken off before basting. The skin was so crisp that it shattered when he cut into it, and most of the fat had rendered out, leaving just the juicy meat inside. The other two of us enjoyed the mustard coated chicken, which gave a sweet-spicy tang to that gloriously juicy meat. A definite make again! Thanks for posting!