Regal Alaskan's Blackened Shrimp or Halibut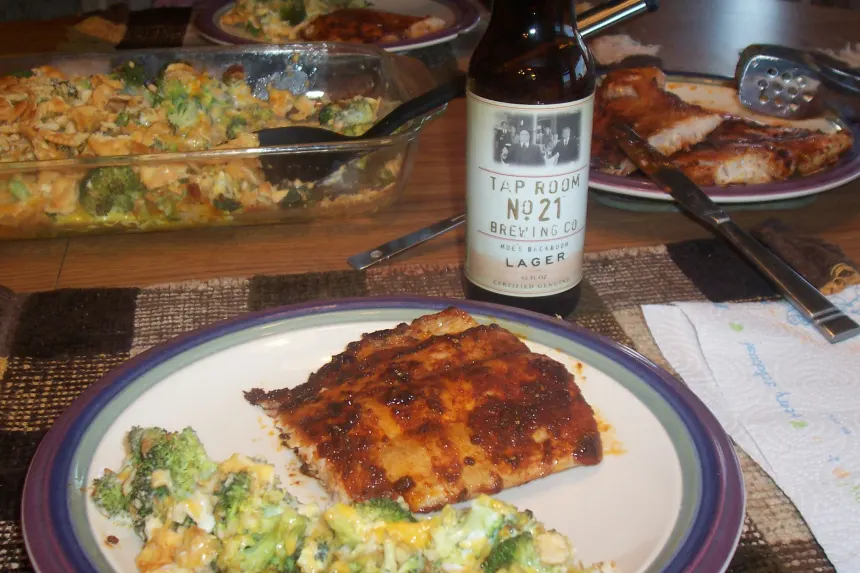 photo by ARathkamp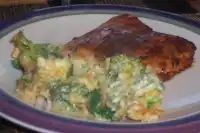 Ready In:

1hr 5mins

Ingredients:

19
ingredients
Halibut Prawns or Shrimp

1

lb halibut fillet, 1/4-1/2 inch thick

1

lb large shrimp or 1 lb prawns, peeled, de-veined, and butterflied
1⁄2 cup butter, melted (or as much as you need to coat the halibut, shrimp, or prawns)

Blacken Seasoning

3

tablespoons paprika
2 1⁄2 tablespoons salt

1

teaspoon garlic powder

1

teaspoon onion powder

1

teaspoon cayenne pepper
3⁄4 teaspoon black pepper
3⁄4 teaspoon white pepper
1⁄2 teaspoon thyme leaves
1⁄2 teaspoon oregano leaves

Cajun Hollandaise Sauce

1⁄2 cup ham, diced
1⁄2 cup shrimp, diced

1 -2

teaspoon blackening seasoning, to taste

1⁄4 cup green onion, diced
1⁄4 cup tomatoes, diced
1 1⁄4

ounces mccormick hollandaise sauce mix (prepared)

1 -2

tablespoon butter
directions
This recipe is designed to feed however many people you want. Just adjust the amount of melted butter, blacken seasoning, and hollandaise to accommodate the number of servings you need.
For Blacken Seasoning: Mix all ingredients in a bowl making sure to mix everything very well.
For Cajun Hollandaise Sauce: Saute the ham and shrimp in butter until the shrimp is cooked thoroughly.
Add the blacken seasoning to taste and allow the mixture to cool.
After the ham and shrimp mixture has cooled, fold together the shrimp/ham mixture, diced tomato, green onion, and hollandaise sauce.
For the Blackened Shrimp or Halibut: For this recipe it is best to use a cast iron skillet or griddle on a bbq grill or an outdoor propane cooker, I prefer a large cast iron skillet and a propane cooker.
For shrimp: peel, de-vein, and butterfly the shrimp.
For halibut: cut halibut filets to 1/4 to 1/2 inch thickness.
Heat cast iron skillet to 700 degrees (the skillet will smoke and the bottom will start to turn white) Dredge butterflied shrimp, or halibut filets, in butter then coat one side with blacken seasoning.
Place shrimp (or halibut) seasoning side down in the skillet and coat the other side with blacken seasoning.
Cook for 2 1/2 minutes and then turn the shrimp (or halibut) and cook until desired doneness (usually only takes about another minute or two) Serve shrimp on a pool of Cajun Hollandaise Sauce, reserving enough sauce to dip shrimp into.
This recipe will also work for cooking steaks or thicker pieces of halibut but you need to cook as above and then finish in the oven.
WARNING: You will create a large amount of smoke when using this cooking method.
DO NOT ATTEMPT TO USE THIS METHOD INSIDE YOUR HOUSE OR GARAGE!
(Unless you wish to invite your local fire department to join you for dinner.) WARNING Number 2: Cooking shrimp or halibut using this method has been known to be extremely addictive once you have tasted the results.
RECIPE SUBMITTED BY
I live in the bustling little city of Elko, Nevada. I am a single father of a wonderful son. Both of my parents originate from farming communities in Nebraska. My mother started teaching me to cook about the time I could wield a spatula (fivish or so), and I have had a passion for it ever since. I vividly remember waking up and cooking breakfast for the family (consisting of bacon, eggs over easy, steak (medium rare), pancakes, and toast) when I was in kindergarten. I have always dreamed of attending a cullinary academy and becoming a master chef, unfortunately the opportunity to fulfill my dream has never presented itself (until I found Recipezaar. :o)). My recipes. ?I would never post a recipe that wasn't already tried and true, so if you see my name on a recipe it's guaranteed to be a good one. I have an extensive recipe collection that I plan to share with everyone at Recipezaar, however I might hold back a few of my best ;o). I pretty much only cook with cast iron, and carbon steel cookware. I have tried many different types of cookware but have never found anything that would compare to a well seasoned piece of Griswold, Wagner Ware, or Matfer Bourgeat.
View Full Profile