Red Onion, Tomato and Chilli Relish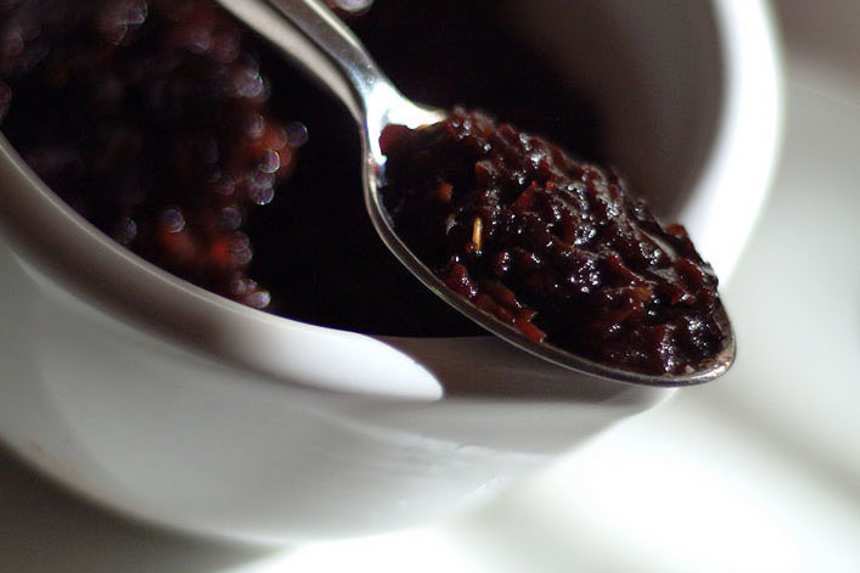 photo by AaliyahsAaronsMum

Ready In:

2hrs 10mins

Ingredients:

7
directions
Start off by skinning the tomatoes - put the tomatoes in a bowl and pour boiling water over them and leave for 1 minute and then drain them and slip off the skins.
In a food processor, add the onion, tomatoes, chilli and garlic and blend until finely chopped.
Place the mixture in a saucepan over low heat and add the sugar and vinegar.
Simmer very gently, without the lid on, for 2 hours, by then the mixture will have reduced to a thick sauce.
Stir frequently towards the end of cooking time so the sauce doesn't stick to the bottom of the pan.
Taste to check the seasoning - serve hot or cold.
Questions & Replies

Got a question?
Share it with the community!
Reviews
I knew this was 5 star before I even made it - I can tell by the ingredients, and these ingredients rang all my bells! SUPERB - I had this with another tagged recipe, Ricotta Fritters, today. I made this a week ago, and left it to "mature and mellow" in the fridge! I made no changes, and I not did I take any photos, as your photo is SO wonderful already - but I might submit a photo when I have used it in another recipe, if you like! If I had any comments to make, it would be that I think it would be great with a bit more onion added - maybe a large onion instead of a small one - but that is just my personal taste! 5 star already and thanks for posting this lovely recipe! FT:-)

 
RECIPE SUBMITTED BY
<p style=margin: 0.0px 0.0px 0.0px 0.0px; font: 12.0px Helvetica;><span style=font-family: Arial, Helvetica, sans-serif; font-size: 13px;><img src=file:///Users/aishayusaf/Library/Caches/TemporaryItems/moz-screenshot.png alt= /><img src=http://i166.photobucket.com/albums/u82/aaliyahsmum_album/bill3.jpg alt= width=402 height=507 /></span></p> <p><img src=http://i166.photobucket.com/albums/u82/aaliyahsmum_album/Untitled-11.jpg alt= /><br />Today, give a stranger one of your smiles. <br />It might be the only sunshine he sees all day. <br />- H. Jackson Brown, Jr. <img src=http://i166.photobucket.com/albums/u82/aaliyahsmum_album/images.jpg alt= /> <br /> <img src=http://i166.photobucket.com/albums/u82/aaliyahsmum_album/Untitled-11.jpg alt= /> <br /> <br />For a hobby, I'm into photography. I thoroughly enjoy baking, but have to admit, I have two left hands when it comes to decorating cakes! I also do a bit of knitting (beginner's stage) and reading. Stephen King and Dean Koontz are my all time favourite authors, and, of course, LOVE Calvin and Hobbes (does it show??!!) <br /> <br /> <img src=http://i166.photobucket.com/albums/u82/aaliyahsmum_album/chch-atheist.gif alt= /> <br /> <br /> <img src=http://i166.photobucket.com/albums/u82/aaliyahsmum_album/Untitled-1-1.jpg alt= /></p> <p>I search for recipes that carry ingredients I can get hold of locally (or I have stocked in my cupboard!). Recipes I have posted are ALL tried and tested and have been enjoyed by all! So, I hope you and your family will enjoy as well! <br /> <br />My rating system is fairly simple. Since I only pick recipes that I know my family will enjoy (looking at the list of ingredients), it's either 5 or 4 stars, I do not go any lower. I may sometimes do a bit of tweaking but that is only due to my family's tastes. If I do have problems with a recipe or if it didn't turn out the way it should have done, then I just leave a comment without any rating. <br /> <br /><img src=http://i166.photobucket.com/albums/u82/aaliyahsmum_album/Untitled-12.jpg alt= /></p>
View Full Profile