Red Lobster Parrot Bay Coconut Shrimp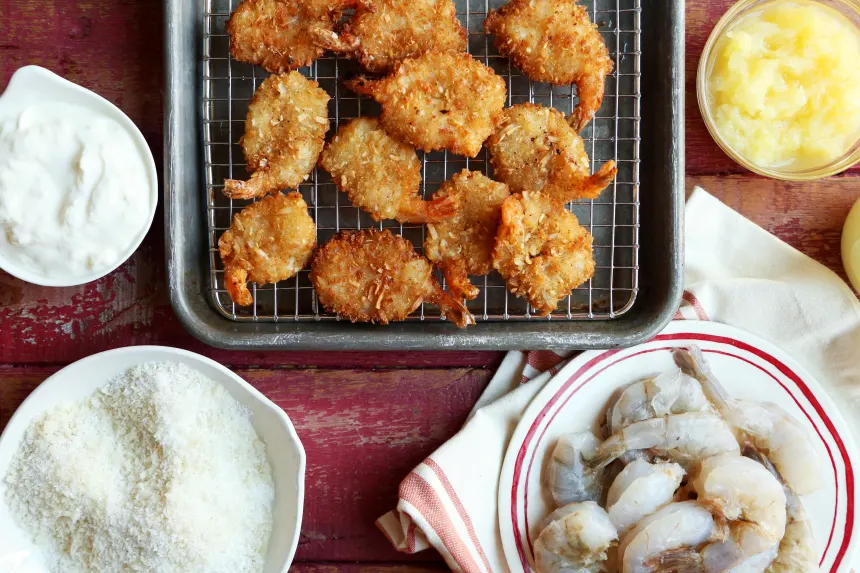 photo by Jonathan Melendez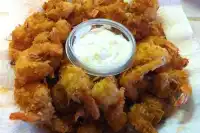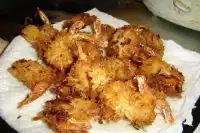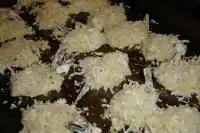 Ready In:

1hr

Ingredients:

14
directions
Prepare pina colada dipping sauce first by combining all the ingredients.
Cover this and let it chill out in the fridge while you make the shrimp.
Heat oil to 350 degrees.
Measure 3/4 cup of flour into a medium bowl.
In another medium bowl mix together the remaining 3/4 cup flour, sugar, and salt.
Stir milk and rum into flour mixture.
Let this batter stand for five minutes.
While the batter rests, combine panko breadcrumbs and shredded coconut into a third medium bowl.
Butterfly cut each shrimp before you start the battering: Use a sharp knife to slice through the top of the shrimp (where the vein was) so that you can spread the shrimp open.
Leave the tail intact.
To batter the shrimp, dip each one in the flour, then the wet batter, then coat each shrimp with the panko/coconut mixture.
Arrange the shrimp on a plate until all of them are battered.
Fry the shrimp by dropping six at a time into the hot oil for 2 to 3 minutes or until the shrimp are golden brown.
Remove shrimp to a rack or paper towels to drain.
Serve shrimp with pina colada dipping sauce on the side, along with a small dish or your favorite salsa.
Reviews
After reading the first few reviews I had to find out for myself the ingredients of the sauce. I have been a server at Red Lobster for 16 years and never knew the ingredients. As one reviewer said there is nothing sour about this sauce, and I also, would have bet that is was not made with sour cream. Although there is no way of knowing the exact recipe because it is not made in store, the ingredients are listed on the shipping box. The first two ingredients are pineapple and sour cream!!! The recipe for the shrimp is very similar as to how they make them in the store though. I don't know why a server would have told anyone that it is made with yogurt. Personally, that sounds really delicious though!

 

Just a suggestion: You can use smaller shrimp -take tails off. Put a number into the flour, then the milk mixture and then put them into bowl of coconut/panco mixture. Place on a parchment lined pan and continue this procedure with remaining shrimp. Therefore no need to butterfly them. But do use fresh shrimp. Sauce is a home run and no need to mess with it except maybe vanilla yogart can be used in place of sour cream.

 

This is a delicious recipe...it wasn't exactly like Red Lobster, but a great substitute!! I don't own a deep-fryer so I found a recipe for baked coconut shrimp to see how to bake it in the oven instead. I found a recipe that said to bake 10 minutes/side at 375 degrees and that worked great! The shrimp turned out crispy and they were amazing dipped in the pina colada dipping sauce. Awesome recipe...I can't wait to make it again :)

 
Tweaks
I make coconut shrimp several times a month as it is one of my husbands favorite dishes; so I've had A LOT for trial and error. My BEST dipping sauce actual calls for PINEAPPLE JELLY.... I mix a teaspoon of it into a 1/2 Cup of plain Vanilla Yogurt and a large pinch of flaked coconut. Simple. Delicious. For a stronger coconut flavor add a bit of Coco Re'al Cream of Coconut or a bit of Watkins Coconut extract; I suppose artificial flavoring would work as well. There is a a coconut flavored yogurt by Yoplait that works well too, but actually any flavor would work We love a strong coconut flavor so I will also add Cream if Coconut to my batter. Delicious! Give it a try and let me know how you like it.