Parmesan Kaiser Rolls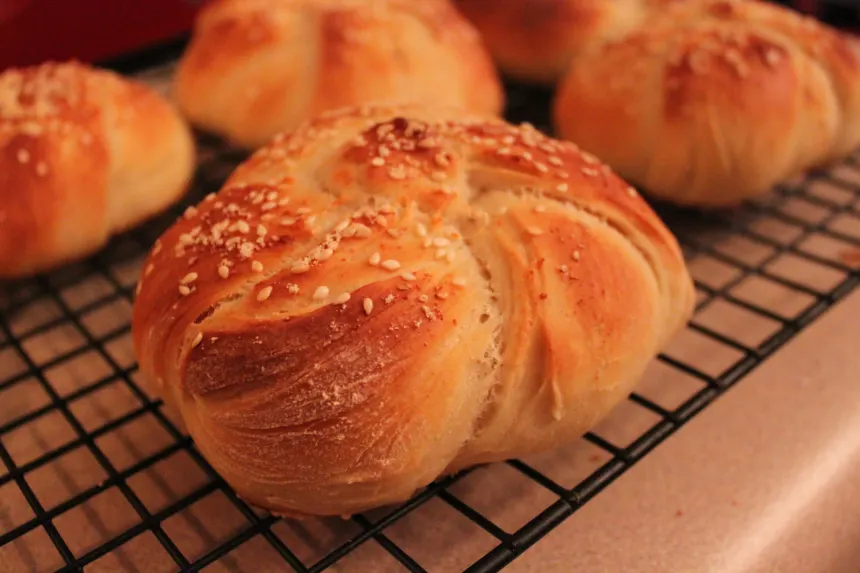 photo by cookin_nurse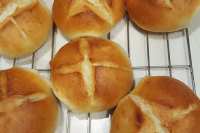 Ready In:

1hr

Ingredients:

13

Serves:

6
directions
In the bowl of a stand mixer fitted with a dough hook, dissolve yeast in warm water. Let sit until mixture bubbles, about 10 minutes. (If mixture does not bubble, either the liquid was not at the correct temperature or the yeast is old.)
Add 1 1/2 cups of the flour, 1/4 cup of the Parmesan, salt, sugar, and shortening to yeast mixture and stir on low speed until just combined. Add 1 egg white and mix until completely incorporated.
With mixer running, slowly sprinkle in remaining flour a few tablespoons at a time, until dough pulls away from the sides of the bowl in one mass, about 5 minutes. Continue mixing dough until smooth and elastic, about 8 to 10 minutes more.
Lightly oil a large bowl with 1 teaspoon of the vegetable oil. Place dough in the bowl and turn to coat in oil. Cover with a damp towel and let rise until doubled in size, about 1 hour. Meanwhile, oil a baking sheet with remaining 2 teaspoons oil and set aside.
After dough has risen, punch it down and turn it out onto a clean surface. Divide dough into 6 pieces (each about 4 1/2 ounces) and shape into 12-inch ropes.
To form a roll, tie one rope into a loose knot; you want 3-inch "tails" on either side of the knot. Take the tail that is on top, wrap it underneath the knot, then push it up through the center hole. Bring the second tail over top of the knot and push it down through the center hole. The formed roll will be an elaborate knot that will look the same on top and bottom. Repeat to form 6 rolls.
Place rolls about 3 inches apart on the oiled baking sheet, cover with a damp towel, and let rise until puffy and about 1 1/2 times larger, about 45 minutes. Meanwhile, heat the oven to 425°F and arrange one rack in the middle and the second on the bottom. Place a metal baking sheet on the bottom rack.
Mix remaining egg white with cold water in a small bowl until evenly combined. Brush tops of rolls with egg wash, sprinkle evenly with poppy seeds and remaining 1 tablespoon Parmesan, and place on a baking sheet.
Place ice cubes on the preheated baking sheet, and immediately place baking sheet with rolls on the upper rack. Bake until golden and internal temperature reaches 190°F, about 20 minutes. Transfer rolls to a wire rack to cool for at least 30 minutes.
Questions & Replies

Got a question?
Share it with the community!
Reviews
One thing I did prior to preheating the oven was to put an ovenproof pan on the floor of the oven into which I would put about 8 ice cubes. Then before placing the rolls in to bake I would mist them with cool water. I did not egg wash them. This helps to crisp up the outside of the roll. Bakeries have that type of oven which does the same thing only automatically.

 

We thought these were very good. They stayed soft, and turned a very dark brown. So was a little dissapointed that the outside was not crisp. Followed directions to a T. Great shape. First rise had me nervous, because they didn't seem to want to rise, but the second rise was wonderful (user error, no reflection on recipe there). The flavor of the cheese really came through, but so did the salt. That was a lot of salt for such a small amount of flour. I questioned it to myself, almost cut back but then decided to make it as written. Next time I would cut it by at least half. Thanks for posting!!!

 

Made these today to have with hamburgers on the grill...we LOVED them. My husband said these are the best hamburger buns he's ever had. You can see I didn't form them into a know...just formed each roll into a ball, flattened and cut them right before the final raise. This pic is about 30 seconds out of the oven...came out PERFECT!