Wonderful Homemade Kaiser Rolls!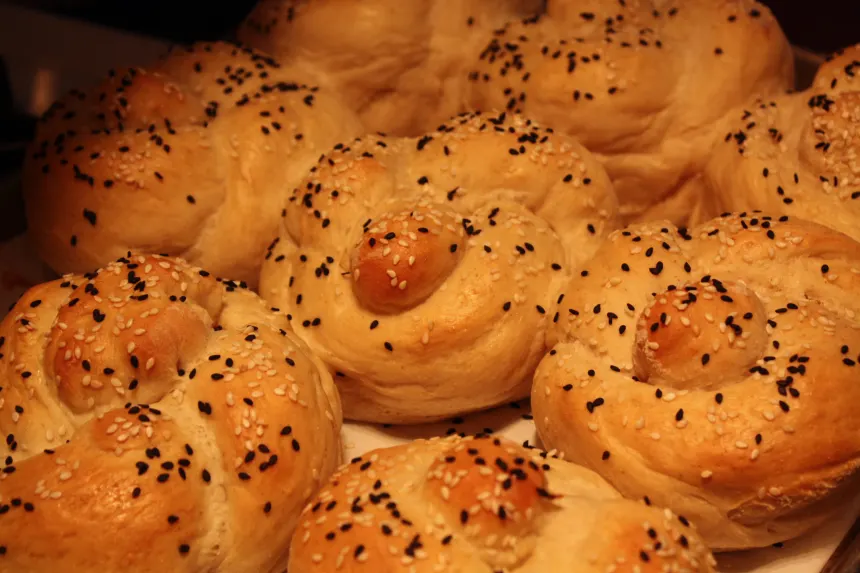 photo by folklor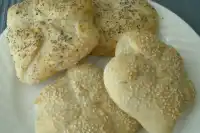 Ready In:

1hr 45mins

Ingredients:

10

Serves:

16
directions
Beat egg whites until stiff.
Set aside.
Combine yeast and warm water, and let sit about 5 minutes.
Add shortening, sugar, salt and 3 cups of the flour.
Beat with dough whisk or heavy spoon for 2 minutes.
Fold egg whites into yeast mixture.
Gradually add flour 1/4 cup at a time, until dough comes together and begins to pull away from bowl.
Turn onto a floured surface.
Knead, adding more flour as needed, for 8-10 minutes, until smooth and pliable w/ bubbles.
Place in a lightly oiled bowl, turn to coat, and cover with damp towel.
Let rise until double, about 1 hour.
Punch down, cover and let rise again until double (about 45 minutes.) Punch down and turn out onto lightly oiled surface.
Divide dough into 18 equal pieces.
Use rolling pin to flatten each piece into a 7 inch circle.
Fold left side to center to form a flap.
Fold next side into center.
Repeat all the way around 4 times to make overlapping flaps.
Lift the first flap to ease the last flap underneath.
Press center to seal the dough.
Takes some work, but they look pretty when you get the technique down!
Place rolls upside down on a well-greased baking sheet, 3 inches apart to help them keep their shape.
Let rise 30 minutes, turn right side up, let rise 15 more minutes.
Preheat oven to 425.
Put a shallow pan on the bottom shelf of oven.
Lightly brush the rolls with egg wash.
Sprinkle with poppy or caraway seeds or coarse salt.
Place 1 cup of ice cubes in the heated pan in oven.
Immediately put the rolls in and bake 15 to 20 minutes until golden brown (internal temp will read 190).
Remove and cool on racks.
Questions & Replies

Got a question?
Share it with the community!
Reviews
Yeah baby! This recipe was easy and I messed it up a bit too but everything came out TERRIIFIC! ITS FOOL PROOF... omg.. sooo tasty and delicious!! Amaze yourself. Make this recipe and you will amaze YOURSELF with your mad baking skills! My only gripe is the shape of the rolls I made came out REDICULOUS. Just awful looking things those. So here is a technique I am going to try next Sunday when I make them again! http://www.kingarthurflour.com/blog/2008/02/28/all-tied-up-shaping-kaiser-rolls/

 

These were really, really good. I prepared this recipe "as is", letting the dough rise twice. Then I punched down I divided the dough into 4 parts, freezing 3 of them and baking 4 rolls with the last part. The dough freezes well. When I want to bake a batch, I thaw the dough overnight in the frig and complete the baking process the next morning. Quick, easy, and wonderful rolls in just over an hour.

 

I made these as per directions. Everything was fine until I got to the folding part. All I ended up with was the same as chef 492487, squares! I couldn't make that roll look like a circle. After I'd put most of them on the baking sheets, I went to King Arthur.com and looked up Kaiser Rolls. The last 4 rolls some how looked fairly good. I baked them for 12 minutes, and they were a little golden in color, but some were burnt on the bottoms. As far as taste, the flavor was excellent. I put the ice cubes in a pie pan, and the tops came out chewy.The bottoms were, except for the burnt ones, nice and crisp. I will try these again, and use a different folding technique. The K.A. site shows the folding as, rolling the dough for each roll into a "rope" about 14 inches long. Then, tie a loose granny knot, then bringing the two long pieces up and over the circle that was made first by making the knot. This is basically a good recipe.

 

Totally Terrific! I followed the recipe exactly and I wasn't disappointed. I had to eat one immediately with butter because they looked SO irresistible! I did freeze half the dough though since I didn't need 16 of these all at once and can't wait to see how that works out. I put sesame seeds and poppy seeds on mine and I will be using these tonight for my pulled pork that's simmering in the crock pot right now. Mmmm, I can't wait! Thanks for sharing this wonderful recipe!

 
RECIPE SUBMITTED BY
<p>I'm a 35-year-old mother, musician, and amateur chef. I love farmer's markets and fresh vegetables!</p>
View Full Profile