Papas Con Chorizo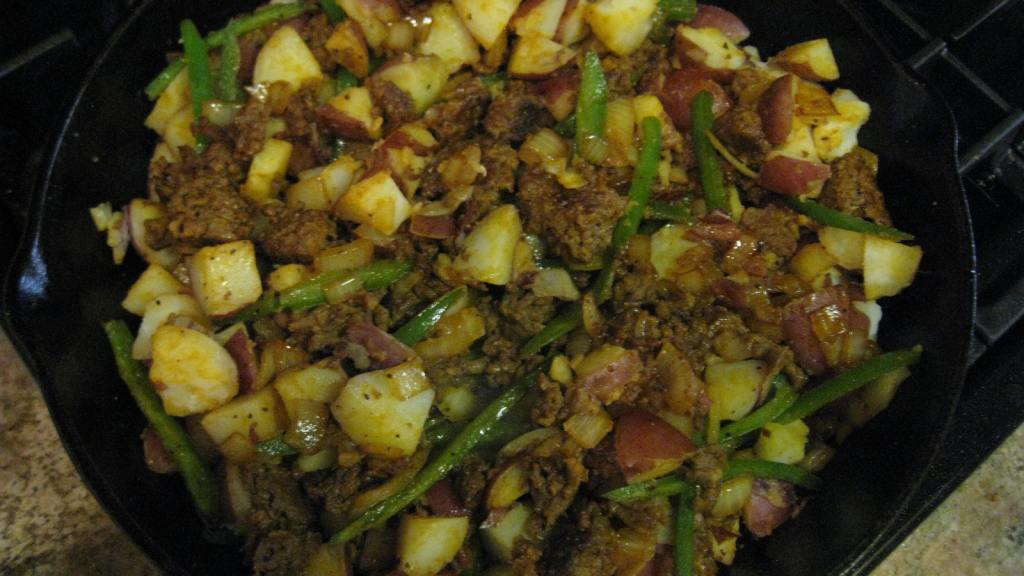 Ready In:

45mins

Ingredients:

7

Serves:

6
ingredients
500

g chorizo sausages, chopped

300

g onions, chopped

1200

g potatoes, peeled, boiled & diced

4

fresh jalapeno peppers, julienned

1

teaspoon salt
1⁄2 teaspoon pepper

750

g tortillas
directions
On a large pan, over medium heat fry chorizo for 5 - 8 minutes, until fat has become oil.
Add onions & jalapeño peppers, salt & pepper, stir fry for 2 - 3 minutes until onions soften.
Add diced potatoes and stir, cook for another 5 minutes.
Serve hot with tortillas and salsa, enjoy!
Join The Conversation
I was lazy and did not peel the potatoes, and I adjusted the quantities a bit: I used about 3/4 of the potatoes, as it looked like my pan would be full with that amount (and leave me some for dinner tomorrow) I used 1 large onion and 3 jalapeno peppers (mine were HUGE) and didn't measure the salt and pepper (just sprinkled what looked like the right amount for our taste.) I used Johnsonville chorizo, which is Mexican style, although the recipe does not specify whether the chorizo is Spanish or Mexican style. I suppose you could use either one, but the Spanish style would be a chunkier dish. The Mexican style is more like ground beef. I did like the flavor quite a lot, but that is because I like that brand of chorizo. (I have had some bulk chorizo which was a grocery store concoction that I did not like.) Even counting the boiling of the potatoes, it was done in less than 1.5 hours. If the potatoes were pre-cooked, then it is done in more like 20 minutes, so it's a good week-night dish. You could use frozen cubed hash browns instead of the boiled potatoes to speed things up a lot. I served it with some red chile sauce (like enchilada sauce) and sour cream with a side salad of cucumber, tomato, onion, and cilantro. I used taco size whole wheat flour tortillas. This would be good with corn tortillas as well as flour tortillas. I had another 1/2 of one for seconds (hubby and I both wanted a bit more than one) and used salsa instead of the red chile sauce. I think I liked it better with the salsa. The leftovers will make some great breakfast burritos with the addition of some scrambled egg. Don't ignore the simple recipes like this one, they contribute to being able to please family and handle a busy schedule at the same time. The chorizo provides complex flavors and leads you to believe it took hours of careful spice measuring but Johnsonville did that for me.