Chorizo, Potatoes and Eggs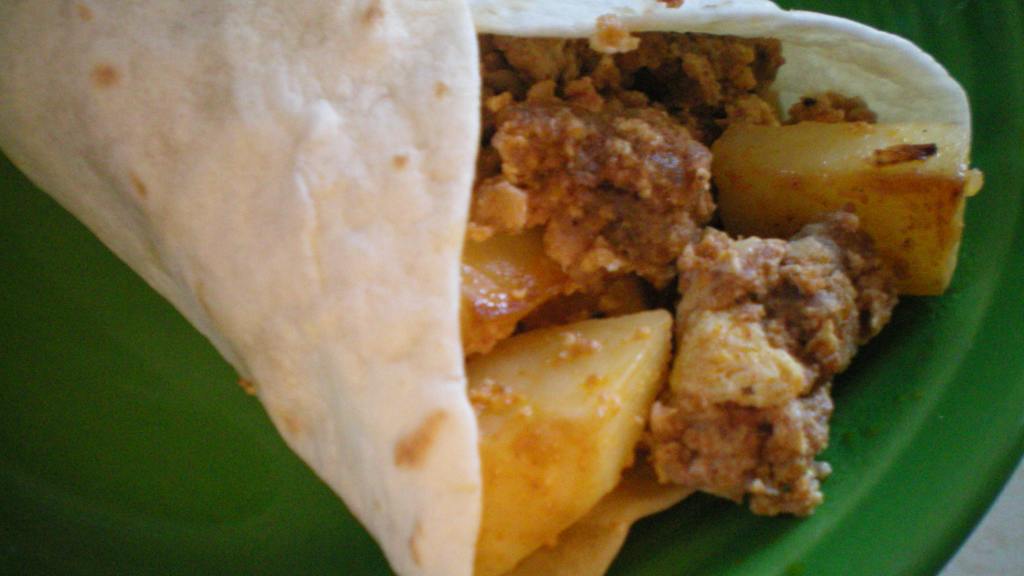 Ready In:

30mins

Ingredients:

3
ingredients
4 -6

medium potatoes, peeled, chopped into cubes (parboil or frozen to save time)

8

ounces chorizo sausage (add or subtract to taste)

6

eggs (scrambled in a bowl)
directions
Cook your chopped potatoes in a 12" frying pan.
Saute chorizo in a sauce pan by it's self, while the potatoes finish cooking.
Pour cooked chorizo sauce into your cooked potatoes (pour off excess oils to taste).
Mix the chorizo completely into your cooked potatoes.
Pour your eggs into your mixed potatoes and chorizo and stir or you can fold and make an omelet.
Cook until done and server immediately, as scrambled eggs, a burrito or an omelet.
If your crowd is really big eaters, add spainsh rice and refiried beans -- I make this even on camping trips, you should see the people in the campgrounds looking around when they smell this in the morning, put out some Menudo with onions, clantro and you have a very tasty meal no matter where you are, enjoy.
Join The Conversation
this is very simple, step by step instructions. I was doing a little research when I stumbled upon this new tool of discovery. I had to cook dinner tonight and wasn't exactly too sure what to make. I knew I had to act fast. with this simple site, I can list any ingredients I have and take off from there. I can't wait to start exploring my options in the kitchen !!!!!!

Good! I used frozen hashed browns, and added chopped onion and green pepper after the chorizo was almost done. I also used more eggs, but since I didn't really measure anything, I guess that will depend on personal preference. I served it with flour tortillas, shredded cheese, and taco sauce. We actually had it for a Friday night supper instead of breakfast. A nice change of pace.