Easy Rye Bread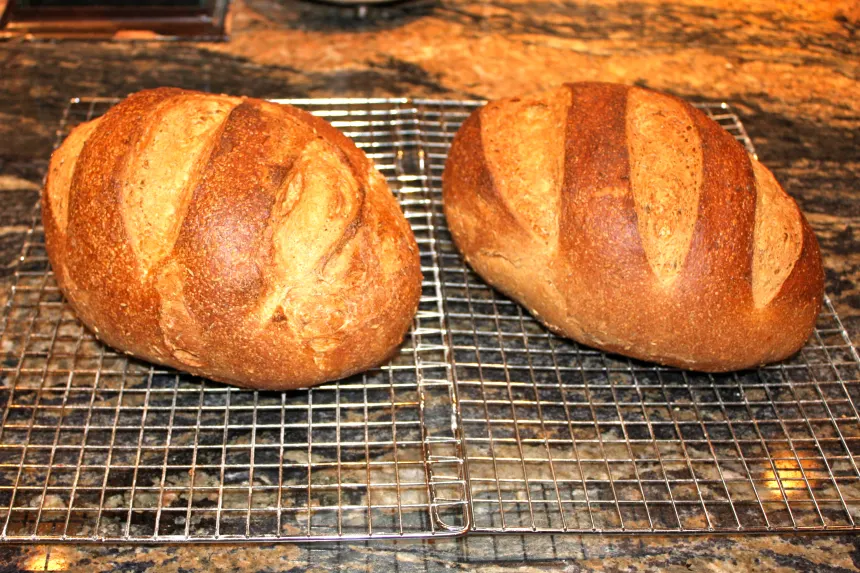 photo by lwunder

Ready In:

6hrs 55mins

Ingredients:

11
ingredients
Starter

235

g bread flour (approx. 2 cups, 1.85 cups exactly)

200

g rye flour (2 cups)

5

g yeast, Active dry (1 tsp.)

40

g sugar (1/3 cup)

10

g malt drink powder (1 T, non-diastatic, source King Arthur Flour, Baker's Catalog)

725

g water (725 ml, 3 cups)

Flour Mix

700

g bread flour (5.5 cups)

5

g yeast, Active dry (1 tsp.)

20

g salt, Kosher (1 T plus 1 tsp.)

30

g caraway seeds (4 T)

15

g vegetable oil (15 ml, 1 T)
directions
Weigh out ingredients for the starter in your mixing bowl and whisk together. They should be the consistency of pancake batter.
Measure out the remaining bread flour into the mixing bowl with starter (on top of starter).
Make two wells in the dry bread flour, add the salt and caraway seeds in one, the yeast in the other.
Place mixing bowl on its stand, cover (loosely with plastic wrap or a lid), and let ferment for 1-4 hours. The yeast will become active during this time.
Measure out vegetable oil and reserve until ready for use.
After the preliminary ferment, add oil to bowl and mix with a dough hook until a smooth, elastic dough ball is formed, about 5 minutes.
Turn the dough out onto a greased countertop (olive oil or Pam Spray works well).
Knead into a ball (1 minute) and place into a dough riser lightly coated with oil. Spray top of dough with oil, cover and let rise for 2 hours or until doubled in size*.
Preheat oven with a pizza stone to 450°F Be sure that the stone and a cookie sheet (bottom shelf) are in the oven when you start pre-heating it.
Turn bread dough out onto a lightly floured countertop and divide into two pieces.
Form loaves and place them on a sheet of parchment paper that is roughly the same size as your pizza stone.
Cover** and let rise for 45-60 minutes.
After rising, slash the tops of the loaves using a serrated knife.
Place the rolls in the oven using a pizza peel.*** At the same time, put a cup of ice on the cookie sheet to humidify your oven.
Bake at 450 F for 15 minutes. Reduce heat to 400 F and continue baking for another 40 minutes. If your oven has a convection bake setting, switch to convection for the last 10 minute of baking.
Cool on wire racks and enjoy!
*If you are not ready to form the loaves after the first rise, you can punch the dough down and let it rise again until doubled in size. **I use a plastic storage container that is designed to store things under my bed. It is the perfect size and keeps my dough safe from cats, dogs and other critters. ***An inverted cookie tray works in a pinch. ****If smaller loaves are desired, divide dough into four pieces and reduce baking time by 10 minutes.
Reviews
Have any thoughts about this recipe?
Share it with the community!