Easy Pepper Steak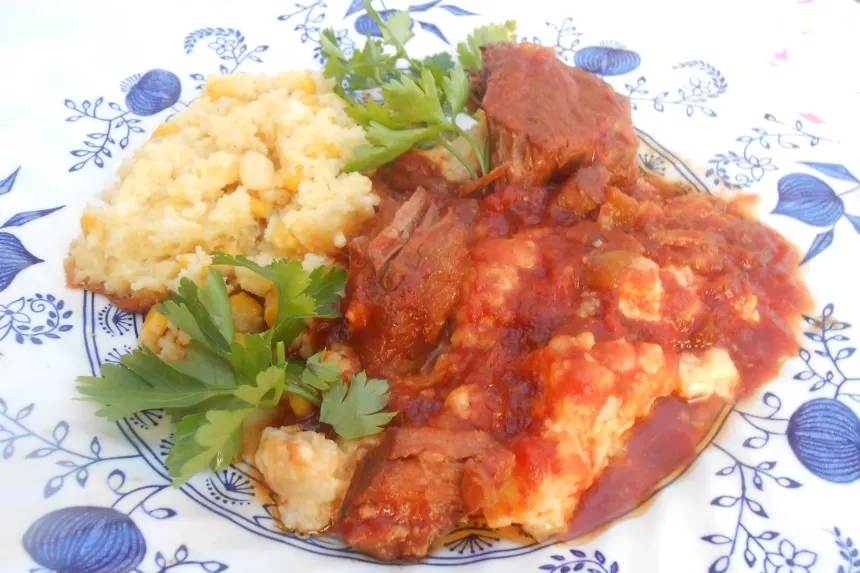 photo by pammyowl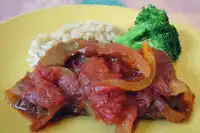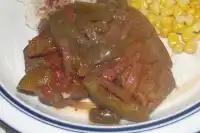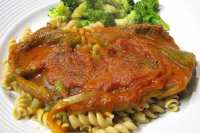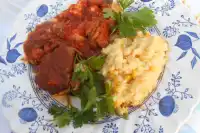 Ready In:

2hrs 15mins

Ingredients:

10
directions
Slice the onion and green bell pepper into 1/4" thick slices, set aside.
Place round steak on cutting board. Trim off any excess fat from around the edges. Using a meat mallet (pointed side), tenderize the steak until it is approx 1/2" thick. Cut round steak into 6 - 8 pieces.
Heat vegetable oil in large skillet over med-high heat.
Sprinkle the round steak with half of the salt, black pepper & garlic powder, to taste. Lay pieces of round steak (seasoned side down) into the heated oil, working in batches and adding oil if necessary. While browning the first side, season the top sides with the remaining salt, pepper & garlic powder. Brown approx 2 minutes, then flip to brown the other side.
At this point, you can throw ALL of the ingredients into a crock pot insert (or you can reserve peppers and onions until 1 hour before done and then add to crockpot, so they are firmer). Cover the insert and refrigerate overnight to start in the morning on low for 6-8 hours (be sure to let insert rest on counter for 30 minutes before placing into the crockpot), or you can start crockpot right away without refrigerating over night. Then refer to steps #7 - #8.
Now, this is how I usually prepare this dish. Using steps #1 - #4, add to skillet the onion, green bell pepper, tomato sauce, water and ketchup (if using). Add any additional seasoning, to taste. Stir to mix. Cover, lower heat and gently simmer approx 60 - 90 minutes, stirring occasionally.
While meat is simmering, you can prepare either mashed potatoes (my family's preferred choice) or egg noodles or white rice.
When the meat is fork tender, remove from heat and let rest for 10 minutes. Serve pepper steak and sauce over a bed of mashed potatoes, egg noodles or white rice and ENJOY!
Questions & Replies

Got a question?
Share it with the community!
Reviews
A super great recipe, rosie316. And it was indeed easy, as the title states. I used the stove-top method and followed the recipe as written except I omitted the ketchup (no real reason other than I just didn't see the need, but I'm glad I did after reading some of the other reviews who suggested ketchup seem to make it too sweet). I served the pepper steak over rice, which the pan sauce was great for flavoring the plain white rice, too. It was super good, and we really enjoyed it. As easy as this is, I can imagine making this recipe quite often. Made for your win in the 2013 Football Pool.

 
RECIPE SUBMITTED BY
<p>&nbsp;</p> <p>(FYI Update: 06/03/14)... My About Me page is correct. I joined as a member on March 19, 2012 (2+ years ago). But if you click on my public recipes, it states that I joined on Dec 29, 2112. It's way off... but I'm sure the staff will take care of this issue soon. (I will remove this when this error has been corrected).</p> <p>Anyway...</p> <p>&nbsp;</p> <p>Hi fellow chefs. Looking to expand here. Everyone on here has been a pleasure to meet &amp; share recipes with.</p> <p>My hubby and I live in Northern Illinois USA, just NW of Chicago. I'm a very proud mom of 2 kids (my daughter in college &amp; my son in highschool). I also have 4 semi step-children, from which we are now proud grandparents of a 4th grandchild (June 2013).</p> <p>I love to cook and experiment (using my family &amp; friends as guinea pigs). If I had the time and $$$, I would spend all of it on creating dishes to feed people. I try to have family and neighbors over whenever possible to feed them. I've cooked many large meals (at home) to take to our county's women/children's shelter, and also to the homeless men that spend 1 night, (once a week), in the local church basement. It's the right thing to do (when you can afford to do it).</p> <p>I love to throw a party, even when it isn't a holiday. Cookouts in the summer or a bring a dish to pass type of get together or an appetizer only event, or even a fondue party. But my favorite... a rolling dinner party ... that's when each of our neighbors who participate pick a dish, and we walk to their home to have cocktails at house #1, then on to house #2 for appetizers, then house # 3 for soup &amp; salad, house # 4 is the entree, and finally house # 5 is dessert! Now keep in mind, we take house #1's cocktails with us when we go on to the next few houses! LOL It's alot of fun. Try it sometime. We usually do it the weekend before Christmas and then go caroling the neighborhood. It's hilarious... grown adults, with full bellys, withstanding temps in the single digits, singing to the community!</p> <p>Sorry folks, I tend to ramble. Anyway, in any spare time, I love to garden. Flowers, veggies and herbs. Always planting in the spring/summer when I can. My bucket list includes making a Moon Garden. Not the kind that some farmers use as a planting chart, but a garden containing flowers, herbs and veggies that are white or somewhat white in color, and they glow beautifully under the moonlight!&nbsp;</p> <p>Hubby and I are caretakers for a little cabin, up north of us, in Wisconsin. It is truely a thing to see. Located on 40 acres (formerly a paper mill plantation). Huge pine trees abound and so very peaceful. The downside is... NO electricity and NO running water. That's correct... we literally have an outhouse (like a skinny, wooden shed with a hole beneath it and a crescent moon cut in the door). Ewww. Sorry.&nbsp;We use propane to grill with, and have a oil burning stove in the little 2 room cabin. We also use a charcoal grill or our wood smoker, on which we make a brisket every time we go up there. Another favorite thing to make are Pudgie Pies using cast iron pie irons over the open firepit!... Google them... they are fun and tasty! We also have a trailer set up for the youngsters that has a propane stovetop and oven. And when we go in the summer, there is a farm stand just 15 minutes away that we can get fresh produce from. It's great! And luckily, the public lake (2nd largest in Wisconsin) is only 20 minutes away. They have a beach with restrooms and showers. It's a blast going there. We take the kids and grandkids with on occasion and have a great time! We love to ATV around the trails on those 40 acres of heaven.</p> <p>Okay, on we go...I have been working independently as an owner/operator of a pet grooming salon for 20 plus years, which is why I now have a Chinese Crested dog, (pretty much hairless, so basically, no real grooming involved). We also have a cat, 4 ducks &amp; drakes, and 2 chickens. Oh... and a $0.15 cent goldfish that I bought from the pet store, because he was too cute to be in the stores feeder fish tank. The old one lived 3 yrs and had passed, and grand-babies missed seeing him. I got a new one. The new one with us still doesn't have a name.&nbsp;</p> <p>So, there you&nbsp; have it... thats me.</p> <p>-Rosie</p> <p>My rating/review system is as follows:</p> <p>5 stars - Excellent, as is. Would not change a thing.</p> <p>4 stars - Very good, liked by most.</p> <p>3 stars - Good, but needs to be altered on some things.</p> <p>2 stars -&nbsp; It could have potential, but not for me.</p> <p>1 star - Will not attempt again.</p> <p>0 stars - I only post a reply without stars to comment, as I do not want to mess up someone's rating.</p>
View Full Profile