Pepper Steak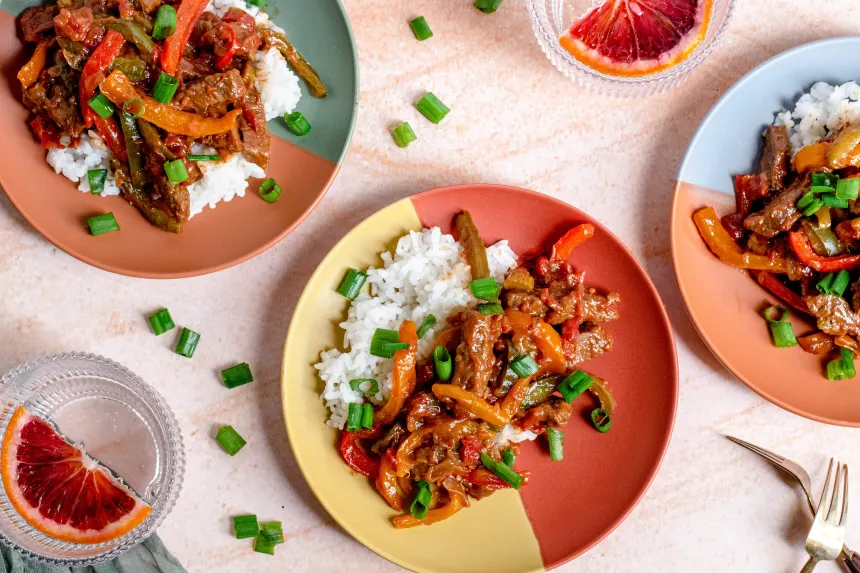 photo by A Marsteller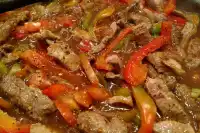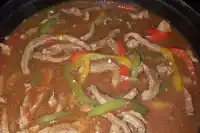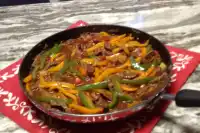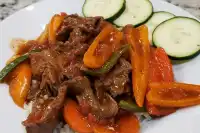 Ready In:

52mins

Ingredients:

15
directions
Slice the beef into 3 inch strips 1/4 inch wide.
Heat 1 T.
oil in skillet on medium high and add onion and garlic, stirring until onion is tender, around 4 or 5 minutes.
Remove with a slotted spoon.
Add remaining oil and saute the beef until browned.
Remove with a slotted spoon.
Add the broth, soy sauce, sugar and ground pepper to the skillet, stir well.
Return beef, onion and garlic to skillet and simmer for 30 minutes.
Add celery, bell pepper and tomatoes.
Cover and cook until celery and peppers are crisp/tender-around 5 minutes.
Dissolve the cornstarch in cold water.
Stir into the skillet stirring constantly until thickened around 2 minutes.
Questions & Replies

The recipe is confusing regarding the unit of measure of oil: teaspoon or Tablespoon. Does Food.Com question the author of recipes when there is some confusion about a recipe or instructions? It is appropriate to ask the author of this recipe to correct it as she intended. Does Food.Com review recipes prior to publication?

 
Reviews
I'm on a lifelong mission to make possible beginner cooks who read recipes and then attempt to make a dish according to that recipe. One of my biggest concerns is that someone who knows little about cooking will follow a recipe that calls for using a "stalk" of celery in the recipe--when what the recipe actually calls for is a "rib" of celery. A "rib" of celery is one of the several, long thingies that make up a "stalk" of celery. A "stalk" of celery is what you buy in a grocery store--you know-- the whole vegetable that is harvested from the ground. One wonders how many newbie cooks have ruined a dinner by chopping and adding a whole "stalk" of celery to a recipe when what was needed was one, single "rib" of celery C'mon recipe writers--get with the program. Learn the difference between a "rib" of celery and a "stalk" of celery

 

This was exactly what I wanted it to be. I had some beautiful t-bone steaks super sealed and lurking in the depths of the freezer from late 2015 (embarassing to admit!) and thought, what the heck. The meat was wonderfully tender and if there was any freezer flavor, it must have been masked by the yummy saucing. I can only imagine how great this will be with fresh meat...thanks Diana for saving me like $20!

 
Tweaks
I don't get why everyone cuts the steak then cooks. It's always gonna overcook ,and be tough, like this. Just cook it, then cut it once it's cool. You can even put a little sauce on the plate before you cool it, then a bit more on top. In case it re-absorbs some liquid as it cools. I'd cut the peppers into thicker pieces, because they will be less likely to overcook as well.