Chocolate Roulade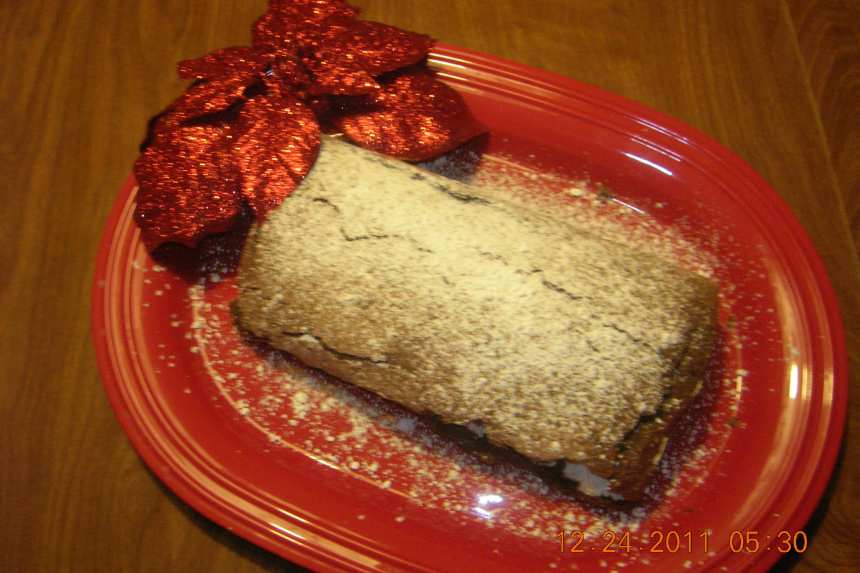 photo by js18812_1048289

Ready In:

35mins

Ingredients:

12
directions
Place rack in center of oven, and heat oven to 350 degrees.
Butter an 11-by-17-inch jelly-roll pan or a 12-by-17 1/2-inch sheet pan, and line with parchment paper.
In a small saucepan, heat 1 cup cream to a simmer.
Add chocolate, reduce heat, and whisk until chocolate is melted.
As soon as mixture is a uniform dark color, remove from heat and let cool for a few minutes.
Whip egg whites and 2 tablespoons sugar to stiff, glossy peaks, about 1 1/2 minutes.
Whisk one-quarter of the egg-white mixture into the chocolate mixture.
Gently fold chocolate mixture back into the original egg-white mixture, and mix until smooth and well combined.
Pour batter into the prepared pan, and spread it in an even layer with a rubber spatula.
Bake until cake is set and puffy, 10 to 12 minutes.
Transfer to a wire rack, and cool to room temperature.
Lift parchment paper to remove cake from pan, and set it on work surface with long side facing edge of table.
Using a fine-mesh sieve, lightly dust cake with cocoa powder.
For the crème chantilly, whip the remaining 1 cup cream with the remaining 1 1/2 tablespoons sugar, the vanilla, and cognac.
Spread evenly over entire surface of cake.
Roll the cake lengthwise, starting at a point 2 to 3 inches over the crème chantilly.
Roll cake another few inches, pressing against parchment paper to make a tight spiral.
Gently peel parchment paper off as cake layer rolls away.
Complete the roll, stopping at the far edge of the parchment paper.
Tuck the loose parchment paper around and underneath the cylinder so it is well wrapped and can be moved easily.
Serve immediately, or refrigerate for up to 4 hours.
When ready to serve, transfer roulade to serving platter.
Remove parchment paper, gently rolling cake into center of platter, with seam on bottom.
(If roll has slumped or twisted, lay a piece of plastic over top and sides, and reshape with hands.) With a sharp knife, trim both ends of roll crosswise or on a diagonal.
Dust top with confectioners' sugar and cocoa powder, and garnish with seasonal fruit.
To serve, cut the roll into 1-inch-thick slices, and lay flat on dessert plates; top with additional crème chantilly if desired.
Questions & Replies

Got a question?
Share it with the community!
Reviews
This is a very well behaved roulade. By that I mean that it tastes great and rolls up easily. In most directions for rolled cakes, they say to roll it up while warm, then unroll to fill, then roll up again. This is frustrating because it usually cracks. This chocolate roulade is cooled in the pan, THEN you roll it. It started to crack as the rolling began, but then just rolled perfectly, and the first bit was camouflaged by the filling anyway. I used the coffee-mascarpone filling instead of the chantilly cream - scrumptious.

 

I was looking through my cookbooks for a chocolate roulade recipe when I realized I was looking in all the wrong places- I always find the best recipes on Recipezaar. I was delighted when I saw that Mean Chef had submitted a recipe - I knew it had to be a winner. It was more than a winner - it was ethereal. An absolute standout recipe.

 

Oh my gosh! This Roulade was simply TO DIE FOR!! and I am not joking!! The first time making a roulade and it was a breeze to make. It was extremely chocolate-y and soooo moist. I was only unsure of one thing, if I was supposed to butter the pan, or the parchment paper? I went ahead and followed the directions and buttered the pan and lined it with parchment paper. My cake was glued to the paper and I had to scrape under the cake to make it come off slowly. It did make the rolling a little messy, but so worth it. Also, I made one other change, I used a 13x7.5 inch jelly-roll pan, and that made my cake a little thick, but I think that's how I will make it in the future 'coz I loved the thick cake. Also, due to the different sized pan, my bake time was of 20 mins. I filled it with Coffee Cream Filling #17245. This is definitely going in my keepers file, and I'm already making two of them again tomorrow!! Thanks Mean for an easy yet scrumptiously delicious recipe. Update: I made this again, but instead buttered the parchment paper instead of the pan and it worked like a charm ;)

 

This was gorgeous -- a real hit at our office Christmas party -- and very easy to make. I had it all pulled together in less than 1/2 hour, which I frankly found amazing! The cake is very moist and fudgy and the whipped cream is to die for. I had a bit extra left over and nearly gobbled it all up! I didn't have any cognac so I used a bit of cointreau instead. I also had to use a cookie sheet as I don't own a jelly roll pan and it was a bit smaller than the dimensions in the recipe but worked just fine. Thanks for a winner!

 
RECIPE SUBMITTED BY
I live in the beautiful mountains of Western North Carolina on Butler Mountain. I am a mystery shopper for restaurants and retail establishments. I graduated from UNC-Asheville with a BFA in art (photography). I was just recently married in Costa Rica to KC and his 6 year old son, Ty. Our wedding was perfect and I will cherish the memories forever. Leslie, Mama's Kitchen, sassafrasnanc, Mommy Diva and Chef V attended the wedding with their husbands!! Leslie's daughter Sarah was our flower girl and her hubby Wayne was our talented musician! I had the time of my life!!! <embed type="application/x-shockwave-flash" wmode="transparent" src="http://w3.photobucket.com/pbwidget.swf?pbwurl=http://w3.photobucket.com/albums/y53/DUCHESS13/897d027c.pbw" height="360" width="480"> Our family is rounded out with 6 Bengals, 1 Jack Russell Terror named Harley, a ferret named Mason, giant gold fish, a water dragon named Crusoe, a Beautiful Appaloosa/Arabian named Sassy, a stunning Palomino Quarter Horse named Sweet Pea and a gorgeous black Standardbred named Domino! We also have added a Leopard Appaloosa rescue horse to the mix. Her name is Pebbles and she is lovely! <img src="http://i3.photobucket.com/albums/y53/DUCHESS13/homepage/thstatenorthcara1.gif"><img src="http://i3.photobucket.com/albums/y53/DUCHESS13/homepage/artsyfartsya1.gif"><img src="http://i3.photobucket.com/albums/y53/DUCHESS13/homepage/buttermybutt.gif"><img src="http://i3.photobucket.com/albums/y53/DUCHESS13/homepage/anotherdayinparadise.gif"><img src="http://i3.photobucket.com/albums/y53/DUCHESS13/homepage/countrygirla1.gif"><img src="http://i3.photobucket.com/albums/y53/DUCHESS13/truelove.gif"> <embed src="http://w3.photobucket.com/widgets/Bucketshow.swf" quality="high" bgcolor="ffffff" width="300" height="300" name="Bucketshow" align="middle" allowScriptAccess="sameDomain" type="application/x-shockwave-flash" pluginspage="http://www.macromedia.com/go/getflashplayer" flashvars="url=http://w3.photobucket.com/albums/y53/DUCHESS13/cutest of cute/&name=ourcuties"></embed> <img src="http://i3.photobucket.com/albums/y53/DUCHESS13/homepage/imengageda1.gif"><img src="http://i3.photobucket.com/albums/y53/DUCHESS13/homepage/love31a.gif"><img src="http://i3.photobucket.com/albums/y53/DUCHESS13/homepage/someoldnewa1.gif"><img src="http://i3.photobucket.com/albums/y53/DUCHESS13/homepage/crazyinlovea1.gif"><img src="http://i3.photobucket.com/albums/y53/DUCHESS13/homepage/wedding2.gif"><img src="http://i3.photobucket.com/albums/y53/DUCHESS13/praying_for_my_bean.gif"> I love Zaar! I have so many wonderful friends here and I really enjoy being a Forum Host. I love the games in the Contest & Events Forum! The games are addictive and a great opportunity to meet the members of this community. I had a blast co-hosting the first Zaar World Tour 2005 with ~Leslie~. Zaar World Tour II doubled in size and ~Leslie~ and I were joined with co-hosts Mama�s Kitchen and kzbhansen. Zaar World Tour 3 doubled again in size and Leslie, Mama's Kitchen and I were joined with SusieD, PanNan and JustCallMeToni! We also established the "Whine and Cheese Gang" which was a wonderful team that was put together to help all the teams playing. Zaar World Tour IV will be bigger and even better!!! Click on the image below to watch the Zaar World Tour 2 recap and promo for ZWT3. <embed width="448" height="361" type="application/x-shockwave-flash" wmode="transparent" src="http://i3.photobucket.com/remix/player.swf?videoURL=http%3A%2F%2Fvid3.photobucket.com%2Falbums%2Fy53%2FDUCHESS13%2FZaar%2520World%2520Tour%2520II%2520%2520Video%2520Files%2F276d5ad0.pbr&hostname=stream3.photobucket.com"> I love hosting the Beverage Forum! As a former bartender and bar owner I am right at home mixing and shaking it up. I love cooking with spirits and experimenting with new drinks and making liqueurs. Stop on by the Beverage Form and see what we are up to. <img src="http://i3.photobucket.com/albums/y53/DUCHESS13/homepage/cherylban-1.jpg"> <li><a href="http://www.recipezaar.com/bb/viewforum.zsp?f=1">Recipe Request Forum Host</a></li> <li><a href="http://www.recipezaar.com/bb/viewforum.zsp?f=53">Beverages (Alcoholic & Non-Alcoholic)Forum Host</a></li> <a href="http://messenger.yahoo.com/edit/send/?.target=ncmysteryshopper"> <img border="0" src="http://opi.yahoo.com/yahooonline/u=ncmysteryshopper/m=g/t=8/l=us/opi.jpg"> </a> <img src="http://i3.photobucket.com/albums/y53/DUCHESS13/Beverage%20Forum/officialmemberofthebevtaggame.jpg"> <img src="http://i3.photobucket.com/albums/y53/DUCHESS13/homepage/utens1.gif"> I try to cook using only organic ingredients and fresh organic produce. Of course this is not always possible... but I do make the effort. I love experimenting with new cuisines and love fusion! I like most foods and most cuisines... Spices and Sauces are my forte! I am most known for cooking with all kinds of wine and liquor. I am always on the hunt for the perfect blend of flavors.... the dish whose first bite makes you put your fork down and relish the mouthful. Sushi, Spicy Foods, Mussels, Shrimp, Lobster, Stone Crabs, Artichokes, Traditional Thai Food, Middle Eastern, Moroccan, French, Mexican, Indian, Asian, Turkish, and the list goes on and on..... <a href="http://www.amazingcounter.com"><img border="0" src="http://c7.amazingcounters.com/counter.php?i=1582062&c=4746499" alt="web page hit counter"></a><a href="http://www.smartdiets.info/coupons/weight-watchers.html"></a> <img src="http://i3.photobucket.com/albums/y53/DUCHESS13/BarStarOnWireLine.gif"> Zaar Chefs that have passed away and live on forever in my heart! In loving memory of...... <li><a href="http://www.recipezaar.com/member/185105"> Stacky5</a></li> <li><a href="http://www.recipezaar.com/member/86764">Redneck Epicurean</a></li> <li><a href="http://www.recipezaar.com/member/87023">Latchy</a></li> <li><a href="http://www.recipezaar.com/member/104600">Cool Monday</a></li> <li><a href="http://www.recipezaar.com/member/372295">Chef I Am</a></li> <li><a href="http://www.recipezaar.com/member/23302"> Mille® ™</a></li> <img src="http://i3.photobucket.com/albums/y53/DUCHESS13/BarStarOnWireLine.gif"> <img src="http://i3.photobucket.com/albums/y53/DUCHESS13/NotDS.gif" alt="Image hosted by Photobucket.com"> <img src="http://i3.photobucket.com/albums/y53/DUCHESS13/World%20Tour/PartAwards.gif"> <img src="http://i250.photobucket.com/albums/gg271/MrsTeny/ParticipationBanner.jpg"border="0" alt="Photobucket"> <img src="http://i3.photobucket.com/albums/y53/DUCHESS13/homepage/DiningonaDollarParticipant.jpg"> <img src="http://i3.photobucket.com/albums/y53/DUCHESS13/RSC%20Banners/RSC11-ncmysteryshopper.jpg"><img src="http://i3.photobucket.com/albums/y53/DUCHESS13/RSC%20Banners/RSC12-NcMysteryShopper.jpg"> <a href=http://www.recipezaar.com/cookbook.php?bookid=177083 target="_blank"><img src="http://i3.photobucket.com/albums/y53/DUCHESS13/homepage/RSC9Participant.jpg"></a><a href=http://www.recipezaar.com/cookbook.php?bookid=177082 target="_blank"><img src="http://i3.photobucket.com/albums/y53/DUCHESS13/homepage/RSCCheryl.jpg"></a> <a href=http://www.recipezaar.com/cookbook.php?bookid=177077 target="_blank"><img src="http://i3.photobucket.com/albums/y53/DUCHESS13/homepage/RSC8Partipation.jpg"></a><a href=http://www.recipezaar.com/cookbook.php?bookid=177088 target="_blank"><img src="http://i3.photobucket.com/albums/y53/DUCHESS13/homepage/RSC7Participant.jpg"></a><a href=http://www.recipezaar.com/cookbook.php?bookid=177085 target="_blank"><img src="http://i3.photobucket.com/albums/y53/DUCHESS13/homepage/RSC6Participant.jpg"></a> <img src="http://i3.photobucket.com/albums/y53/DUCHESS13/Animation1.gif" alt="Image hosted by Photobucket.com"><img src="http://i3.photobucket.com/albums/y53/DUCHESS13/4treasurehunt.gif" alt="Image hosted by Photobucket.com"> <img src="http://i3.photobucket.com/albums/y53/DUCHESS13/FFF/completedbanner.gif"> <img src="http://i3.photobucket.com/albums/y53/DUCHESS13/FFF/Switzerland-FFF4.gif"> <img src="http://i3.photobucket.com/albums/y53/DUCHESS13/Zaar%20World%20Tour%203/ladynusstortes.jpg"> <img src="http://i3.photobucket.com/albums/y53/DUCHESS13/ZaarWorldTourPartBanner.gif" alt="Image hosted by Photobucket.com"> <img src="http://i3.photobucket.com/albums/y53/DUCHESS13/World%20Tour/ZWT2.gif"> <img src="http://i3.photobucket.com/albums/y53/DUCHESS13/Zaar%20World%20Tour%203/ZWT3-Participation.gif"> <img src="http://i3.photobucket.com/albums/y53/DUCHESS13/Zaar%20World%20Tour%204/ZWTAB-tg.gif"> <img src="http://i38.photobucket.com/albums/e110/flower753/Food/my3chefsnov2008.jpg"> <img src="http://i38.photobucket.com/albums/e110/flower753/Food/my3chefs2008Small.jpg"> <img src="http://i3.photobucket.com/albums/y53/DUCHESS13/homepage/MyThreeChefs.jpg"><img src="http://i3.photobucket.com/albums/y53/DUCHESS13/homepage/PAC05.jpg"> <img src="http://i3.photobucket.com/albums/y53/DUCHESS13/homepage/PAC06-1.jpg"><img src="http://i3.photobucket.com/albums/y53/DUCHESS13/homepage/Pac06Fall.jpg"><img src="http://i3.photobucket.com/albums/y53/DUCHESS13/homepage/PAC07-1.jpg"><img src="http://i3.photobucket.com/albums/y53/DUCHESS13/homepage/PAC07Fall.jpg"> <img src="http://i3.photobucket.com/albums/y53/DUCHESS13/homepage/PACSpring2008.jpg"> <img src="http://i3.photobucket.com/albums/y53/DUCHESS13/homepage/PACFall2008.jpg"> <img src="http://i3.photobucket.com/albums/y53/DUCHESS13/homepage/thMightyMaenadsMini.gif"><img src="http://i3.photobucket.com/albums/y53/DUCHESS13/homepage/thAnimatedPRDMini.gif"><img src="http://i3.photobucket.com/albums/y53/DUCHESS13/homepage/thSistasoftheTravellingPotsandPans.gif"><img src="http://i3.photobucket.com/albums/y53/DUCHESS13/Zaar%20World%20Tour%203/whineandcheesegangSM.jpg"> <img src="http://i3.photobucket.com/albums/y53/DUCHESS13/berriesblinkie.gif" alt="Image hosted by Photobucket.com"> <img src="http://i3.photobucket.com/albums/y53/DUCHESS13/homepage/thsinsweetstrawsisMini.gif"><img src="http://i3.photobucket.com/albums/y53/DUCHESS13/homepage/thAnimationStellaMarisMini.gif"> <img src="http://i3.photobucket.com/albums/y53/DUCHESS13/HotEnchiladiies.gif" alt="Image hosted by Photobucket.com"> <img src="http://i3.photobucket.com/albums/y53/DUCHESS13/homepage/Photo_Video_577111733_orig.jpg"> <img src="http://i3.photobucket.com/albums/y53/DUCHESS13/homepage/tablesetting.jpg"><img src="http://i3.photobucket.com/albums/y53/DUCHESS13/homepage/backtobasis.jpg"><img src="http://i3.photobucket.com/albums/y53/DUCHESS13/homepage/BBQPhoto.jpg"><img src="http://i3.photobucket.com/albums/y53/DUCHESS13/homepage/TapasMenu.jpg"><img src="http://i3.photobucket.com/albums/y53/DUCHESS13/homepage/BBQ.jpg"><img src="http://i3.photobucket.com/albums/y53/DUCHESS13/homepage/AnimatedHostChallengeBannerII-Stamp.gif"><img src="http://i3.photobucket.com/albums/y53/DUCHESS13/homepage/ZWT-ChallengeHostBanner-Stamp.gif"><img src="http://i3.photobucket.com/albums/y53/DUCHESS13/homepage/ZWT4-ChallengeHostAboutMe-Small.gif"> <img src="http://i3.photobucket.com/albums/y53/DUCHESS13/homepage/stacky5.jpg"> <img src="http://i3.photobucket.com/albums/y53/DUCHESS13/homepage/Amy.jpg"><img src="http://i3.photobucket.com/albums/y53/DUCHESS13/homepage/cookathonLorac-1.jpg"> <img src="http://i3.photobucket.com/albums/y53/DUCHESS13/homepage/StampRow1.jpg"><img src="http://i3.photobucket.com/albums/y53/DUCHESS13/homepage/StampRow2.jpg"><img src="http://i3.photobucket.com/albums/y53/DUCHESS13/homepage/StampRow3.jpg"><img src="http://i3.photobucket.com/albums/y53/DUCHESS13/homepage/stampRow4.jpg"><img src="http://i3.photobucket.com/albums/y53/DUCHESS13/homepage/StampKaffee.jpg"> <img src="http://i3.photobucket.com/albums/y53/DUCHESS13/crockpot.jpg"> <a href="http://www.sparklee.com"><img src="http://img110.mytextgraphics.com/sparklee/2007/12/17/fb5cb0ed92b908750a9b76c86ea44dd5.gif" border="0" alt="free logo - http://www.sparklee.com" /></a><img style="visibility:hidden;width:0px;height:0px;" border=0 width=0 height=0 src="http://counters.gigya.com/wildfire/CIMP/Jmx*PTExOTc5MTQ5MTE1NzgmcHQ9MTE5NzkxNDk*MDkzNyZwPTc*MzIxJmQ9Jm49.jpg" /> <a href="http://www.maploco.com/view.php?id=1927356"><img border=0 src="http://www.maploco.com/vmap/1927356.png" alt="Visitor Map"></a><a href="http://www.maploco.com/">Create your own visitor map!</a>
View Full Profile