Chocolate French Silk Pie (Copycat Bakers Square's French Silk)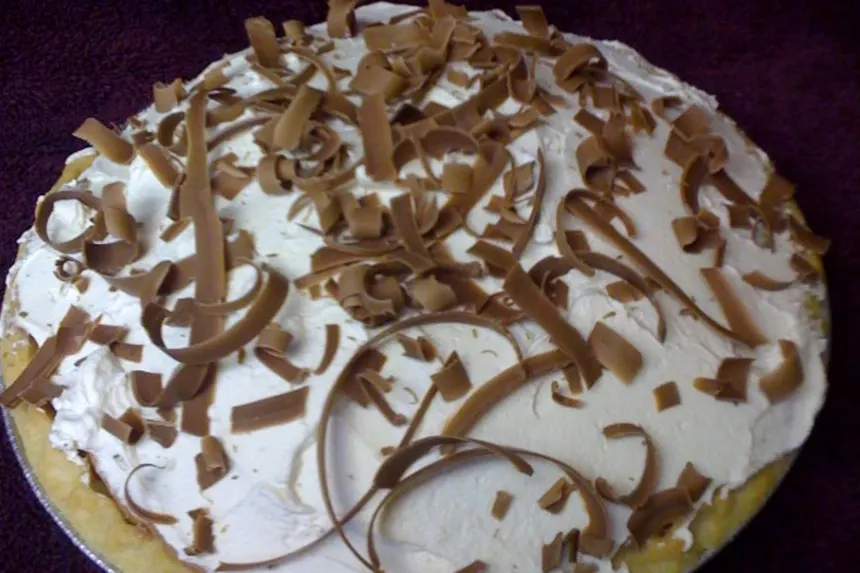 photo by Aussie-In-California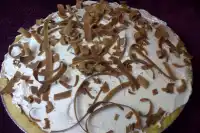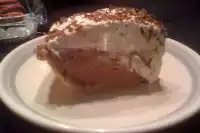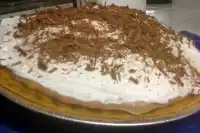 Ready In:

1hr 5mins

Ingredients:

7

Serves:

4-8
ingredients
1

cup butter
1 1⁄2 cups fine sugar

2

ounces unsweetened chocolate, melted and cooled

2

teaspoons vanilla

4

eggs
whipped cream or Cool Whip

1

mrs smiths frozen pie crust, prepared as directed
directions
Bake a pie crust or use a Mrs. Smiths frozen crust and make according to package directions.
Beat sugar and butter until sugar is not grainy (this can take up to 15-20 mins on med-high speed using an electric mixer).
Add chocolate and vanilla. Add eggs, two at a time, beating 5 minutes after each addition.
Pour into cooled pie crust. Chill 2 hours or until firm.
Before serving, top with whipped cream and a little grated chocolate.
Questions & Replies

I cannot claim to know everything. However, this recipe aroused my suspicion. Before we get to the step to pour the batter into the cooled crust, I presumed that the mixing took place on the stove in something like a double boiler. A four egg no-bake recipe seems impossible. Unless something happens in this recipe to make those raw eggs safe to eat, I am not seeing it. If this recipe contained lots of acid or booze, then I would not question this. I am not a scientist or chemist; but I do not see what's happening to these eggs that we can eat them uncooked.

 
Tweaks
This is an amazing recipe and the closest thing to Bakers Square's, given that most Bakers Squares have shut down. The absolute worst thing you can do to this recipe is ruin it by topping it with Cool Whip instead of real whipping cream! I whip a pint of heavy whipping cream until soft peaks form and then add a quarter cup of confectioners sugar and ship again until firm enough for piping. Also, this recipe is really hard to make if you don't have a stand mixer! After you add the eggs if the mixture gets a little runny just put it in the fridge for s little while and then beat it again. If you put a runny filling into your pie shell it will be way too dense once it sets up. If you want a nice fluffy, mousse-like filling like the real Bakers Square pie, make sure it is thick and fluffy when you pour it into your shell (refrigerating and re-beating will help achieve this). I like to top mine with chocolate curls instead of shavings (like the real deal). To make them, I melt down a semi-sweet chocolate bar in the microwave with a tablespoon or so of Crisco. Then I pour the mixture into a foil-lined small rectangular Tupperware dish. I refrigerate until it hardens back into a solid bar, then I use a vegetable peeler (speed peeler) to shave off beautiful curls. This method works wonderfully. The Shortening makes the chocolate pliable enough to where it won't break off into shaving, but instead make lovely curls!

 

My husband and I both love Baker's Square French Silk Pie. I have been looking for that recipe for years! All the Baker's Square locations have closed in our area. I love to cook and bake and I will go to any length to make something we enjoy. I love eating my work as much as I love making it. I give this recipe 5 stars. However, Bakers Square's it was not. I would love to know what brand chocolate you used that it tasted like Bakers Square's? I used Ghirardelli unsweetened chocolate instead of Bakers Secret that tends to be very bitter and I knew it wouldn't come close to tasting like Bakers Square's chocolate. I went to three stores looking for Mrs. Smith's frozen pie crusts and fine sugar. I ended up making my own crust from scratch out of crisco, flour, salt and water. It turned out flaky, beautiful and delicious. I ran my sugar through the food processor and used my Kitchen Aid with the flat beater to beat the sugar and softened butter together on med/high speed for 10 minutes. I checked after 10 minutes and it was gritty. I beat another 5 minutes and it was still gritty. I was worried I ruined my pie, but after the pie sat up in the frig for a couple of hours it did not have a gritty texture. I made a whipped topping with heavy whipping cream and powdered sugar. It tasted wonderful, but it was no Bakers Square's French Silk Pie that I was hoping for. Thank you for a good recipe and I would love to know what brand chocolate you use?

 

Excellent! My hubby made this pie tonight. It is pure chocolate decadence. The filling truly is silky, and it packs a rich chocolate flavor. Instead of a traditional blind baked pie crust, he used a chocolate cookie crust. One slice at a time is definitely enough--no seconds for me tonight, but I'm already dreaming of my next slice! I have a feeling it would be even more sinful with a nice glass of chianti. Yum! Thanks for sharing!

 
RECIPE SUBMITTED BY
I am an Aussie and moved to Southern California in 1991. I have a very sarcastic sense of humour and my talents lie in being intuitive, singing, and eating. I have traveled all over the world and have lived in many locations. I spent the most time in Melbourne Australia ), Singapore, Malaysia, Taiwan, Southern California, New York and Harrisburg PA. If you were to ask me what I love &/or miss about each place my first choice would ALWAYS be the food. My hobbies are acquiring lots of environmental, and medical allergies. <---- Joking but I am super sensitive and so I can be a big pain in the bum to cook for. I guess that is why I love to cook. I know exactly what is going into my mouth and not have to worry about keeping my epipen or inhaler in close reach.
View Full Profile