Boiled Taro With Coconut Milk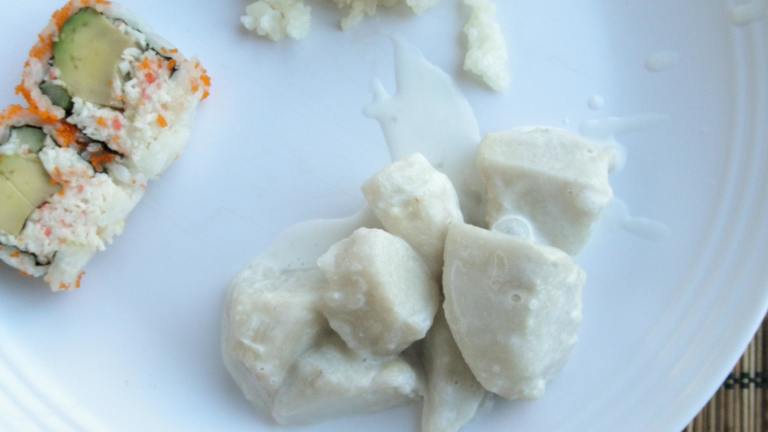 This is a very common way to prepare Taro, as a side to many Tongan dishes. You may need more than one can of unsweetened coconut milk to properly cover the taro. If you cannot find the unsweetened kind, you can used a couple of thawed packages of the unsweetened kind. Oftentimes, I will not even transfer the taro to a saucepan, but will instead keep it in a pot, and drain some of the water. Then I will pour in the coconut milk. Fijian taro (the green kind)is the yummiest, if you can get your hands on it ;)
Ready In:

2hrs 15mins

Serves:

Units:
directions
Scrub the outside of the taro.
Place in a pot with enough water to half cover the taro.
Cover and boil for about 1 1/2 hours, or until tender. (Make sure the taro is cooked very well, for the starches can irritate and scratch the throat if not cooked through completely).
Remove and cool.
Peel away the outside skin and chop taro into large cubes. (Cooked taro at this point can be mashed and formed into cakes that are delicious sauteed with butter).
Place the coconut milk and the taro cubes into a saucepan and heat thoroughly.
There should be enough milk to just cover the taro.
Taste during cooking to see if taro needs more salt.
Submit a Recipe Correction
RECIPE MADE WITH LOVE BY
"This is a very common way to prepare Taro, as a side to many Tongan dishes. You may need more than one can of unsweetened coconut milk to properly cover the taro. If you cannot find the unsweetened kind, you can used a couple of thawed packages of the unsweetened kind. Oftentimes, I will not even transfer the taro to a saucepan, but will instead keep it in a pot, and drain some of the water. Then I will pour in the coconut milk. Fijian taro (the green kind)is the yummiest, if you can get your hands on it ;)"
Thanks for the recipe. Just finished cooking it. I boiled it first in salted water for 20 mins. I should have boiled it a little longer like 25 mins. I then stir-fried in butter some garlic, onion and chillies added the boiled taro root (dasheen) with some of its liquid and coconut milk. I allowed it to boiled down some more and here it is, It is delicious. I am serving this with some coconut curry chicken