Baked Chickpea Falafel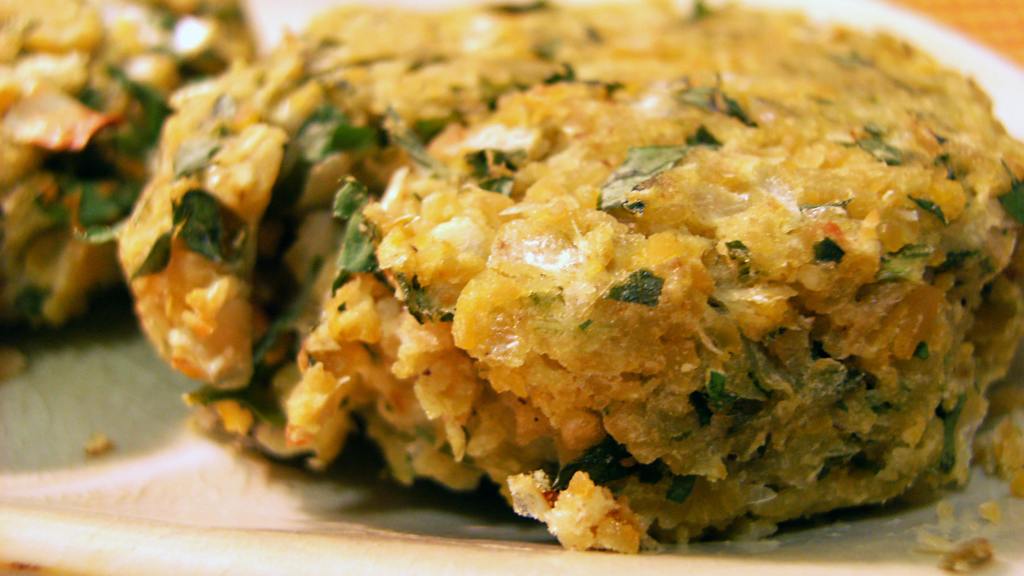 Ready In:

2hrs 15mins

Serves:

Units:
Nutrition Information
directions
Place the dried chickpeas in a large bowl and soak overnight in plenty of cold water.
Drain the chickpeas and rinse them. Pick over and remove nay discoloured or bad looking chickpeas.
Place the soaked chickpeas into a large saucepan and cover with water. Bring to the boil and boil rapidly for ten minutes. Reduce the heat and simmer for one hour, or until soft. Drain.
Place the chickpeas into a food processore with the onion, garlic, parsley, crushed cumin, crushed corainder and baking powder. Add salt and pepper to taste. Process until the mixture forms a firm paste.
Preheat your oven to 180°C (350°F ).
Divide the mixture into walnut sized pieces. Roll them into balls in your hands and then flatten them slightly.
Roll the balls in olive oil and place them on a baking sheet.
Bake for about 30 minutes, or until golden brown.
Serve falafel immediately.
Submit a Recipe Correction
Join The Conversation
The flavor of these were delicious! And the aroma from the crushed seeds incredible. I put the cumin seeds in a plastic bag and used a rolling pin to crush them. The coriander seeds were a little more difficult to crush since they are flat to begin with. I think a meat tenderizer or mortar and pestle would do the trick though.<br/><br/>Simply covering the chickpeas with water was not really enough to simmer for a full hour (I used a regular-sized saucepan), so I would recommend double the quantity as one would do with rice. I had to add more water half way through cooking, but they still softened without any trouble.<br/><br/>I put a tsp. of olive oil on the baking pan and used a paper towel to distribute it evenly. If I put a little on my hands, I could have rolled each falafel just as easily, or used an olive oil spray to a fine mist once they were on the pan, but I'm watching my dietary oil consumption and it wasn't really necessary to add flavor, since the onion, garlic and spices are already very aromatic. Greasing either the pan or the falafel is necessary however so they don't stick.<br/><br/>I found everything to hold pretty well together. I used the purée setting on my food processor. Just use a delicate touch when rolling them and you should be fine.<br/><br/>I forgot to flatten them slightly, so they were just round, but that was pretty much as I expected them. Excluding this step didn't seem to affect the final result.<br/><br/>I made a little persian salad/salsa to go with them. Fresh cut roma tomatoes, onions, and another half cup of parsley made for a delicious topping. Add a little humus and mmmmm! If you are doing gluten-free you can eat them without the pita this way and they are a meal on their own!<br/><br/>No doubt I will add this dish to my arsenal! It is a bit of effort for an everyday meal, but worth the time to have something carb-free that is both healthy and satisfying.

Mmmm, these were really good! I loved the flavour combination of the chickpeas with the parsley, cumin and coriander. Very yummy!<br/>The consistency my chickpeas had after processing was a bit runny, so I didnt roll them but just hand-formed them into little patties. After baking I let them sit for a few minutes on the baking sheet and that helped them firm up a bit. They were still quite delicate to handle, but that was totally fine by me.<br/>THANK YOU SO MUCH for sharing this keeper with us, Jubes. I will make these again.<br/>Made and reviewed for the AUS/NZ Recipe Swap #47 December 2010.