Apple Gingerbread Bread Pudding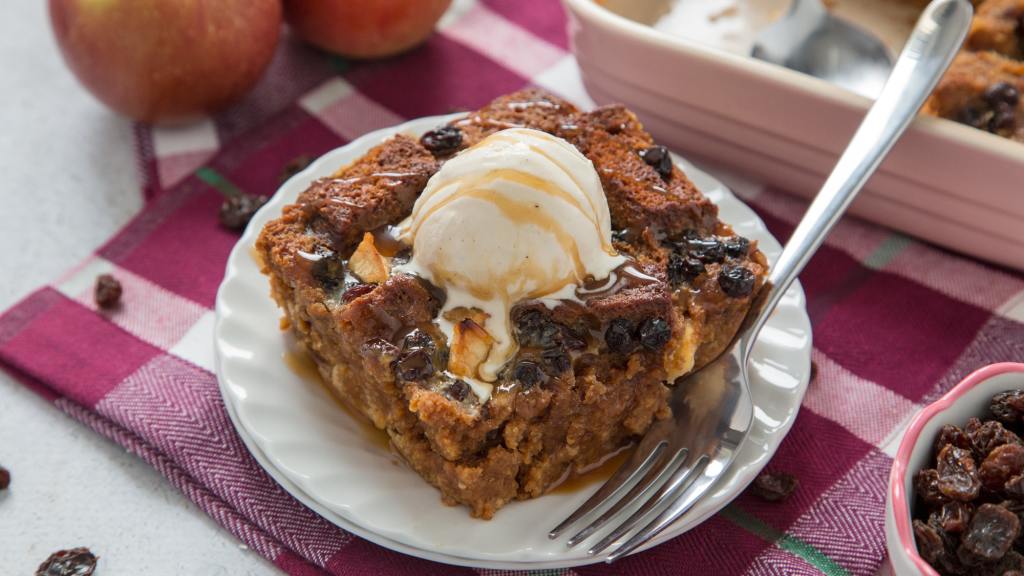 Ready In:

1hr 45mins

Ingredients:

11
directions
Cut the gingerbread into cubes. Place in a generously buttered 8 x 8 x 2" pan. Top with the apple and currants. Set aside.
Scald the milk, cream, and vanilla bean. Meanwhile, in a bowl, combine the eggs, yolks, sugar, cinnamon, and salt. Hand whip until mixed.
Temper the egg mixture with the milk mixture (pour the hot milk mixture a little at a time into the egg mixture while whipping so as not to scramble the egg mixture). Strain through a sieve into your prepared pan.
Press the gingerbread down to ensure complete coverage with the liquid. Let sit for 30 minutes or overnight.
Preheat oven to 350°F
Cover the pan with foil. Bake in a water bath for approximately 1 1/2 hours or until done. Remove the foil during the last 20 minutes of baking to brown the top. Baking times may vary with your oven. Cut into squares and serve hot.
Serves 6 to 9.
Join The Conversation
Very good bread pudding! I just ate half of this myself. I made a batch of gingerbread muffins the other day that flopped (didn't cook all the way through and I didn't notice until it was way to late) So I used this recipe to salvage some of them. Used 6 muffins. Left out the currants since the gingerbread had raisins in it. And used all milk instead of cream. Put it together last night, and threw in the oven this morning for breakfast. Only thing I'd do differently next time is use brown sugar or half molasses for the sugar, and maybe throw in some extra gingerbread spices because although my bread was pretty spicey the pudding was was a bit blander then I'd like. Thanks for sharing this!