Zurie's Tomato and Cream Cheese Tart
Zurie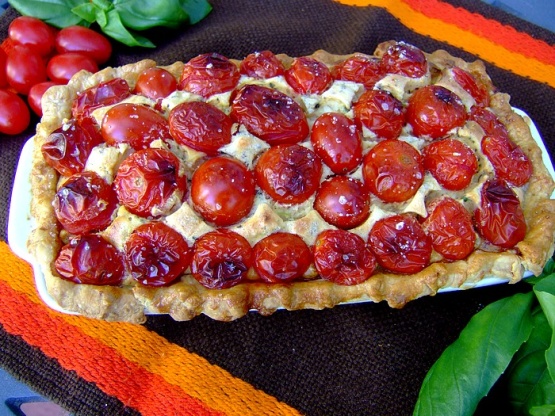 I'd like to dedicate this recipe to Molly53. When I could not find a tomato tart or pie on Zaar with cream cheese as a basis, she went to the trouble of converting a recipe and posting it for me in RR, which is really going to a lot of trouble! Thank you, Molly53!! This is not that tart, but in the end I put this together, and my severest critic, my husband, said the tart was fine. At the time of my request in RR I had lots of small plum tomatoes which in the heat became too overripe for salad but I could not bear to throw them out. I had a large chunk left of my favourite pastry, My Gran's Sour Cream Pastry, which had to be used, but I confess that I don't know how much I used for this pie.... The amount given is a guess. The taste is clean; I did not want to use mayo. Prep time does not include making the pastry.

Zurie, this sounds absolutely wonderful. I have rated them as a 5 start without ever having made them yet. I will come back after I have made them to update this review. I am thinking to make them as appetizers for Christmas. I will use the small tart shells, and likely grape tomatoes. I do think I will garnish them with a fresh basil chiffonade just before serving. I can taste them already. Update Feb 15th. I finally got to make this last night. I was making an asparagus tart, so had a sheet of puff pastry left. I had some lovely cherry tomatoes on the vine that I used, & cut it into small squares. It was terrific! I do still want to try this with the small tart shells at some time, but the puff pastry was a really fast and easy way to do this. Thanks for posting this recipe Zurie, you can bet I will be making it again.
8

ounces pastry dough (short or puff or the recipe given in the intro, you might need more or less)

4

ounces cream cheese (125 g)

1

pinch salt (to taste)

2

tablespoons green onions, finely chopped (spring onions)
1⁄4 teaspoon black pepper

1

teaspoon hot pepper, finely chopped (no seeds or ribs)

1

tablespoon dried basil
1⁄4 teaspoon ground nutmeg
1⁄4 teaspoon garlic, finely chopped

2

tablespoons fresh cream

1

egg

32

plum tomatoes, small (see photo, amount is approx.)
1⁄2 teaspoon sugar
Heat oven to 420 deg F/210 deg C (to start with).
Line a smallish oven dish with pastry, rolled out thinly. I used a rectangular dish. If you prefer, beat an extra egg and paint the pastry with egg, for a golden colour after baking.Keep pastry cold at all times, so put into fridge while you continue.
In a bowl, mix together everything except the small tomatoes. My cream cheese was very firm and cold still, so I used an electric beater for quite a while to get the mixture to be smooth.
Although fresh basil is plentiful, I felt that dried basil stood up better to oven heat than fresh basil.
Take the pastry-lined dish from fridge, and spoon in the cream cheese mixture.
Top neatly with the small tomatoes, and sprinkle over the 1/2 teaspoon sugar.
Bake in preheated oven for about 40 - 45 minutes, until some tomatoes start colouring, then wrinkle, and the cream cheese base puffs up. It will sink again as it cools.
Lovely side dish with fried chicken pieces.