Rita1652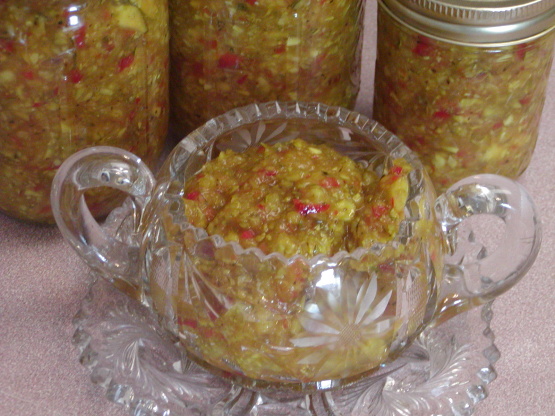 Too much zucchini? Try this wonderful relish and enjoy your zucchini year round. It is really good on hotdogs or hamburgers. The yield is a guess, as I always at least double this recipe.

Top Review by Smilyn
This was a great recipe! We just made this the other week and the husband can't keep his hands out of the jar. I am not one for food dyes, but we added green coloring to the relish to turn it bright green. I really like the freakish green color. We hand shredded a second batch and it gave us longer strands of zucchini in the relish. I don't believe I will do that again because it took extra time and I really like the smaller pieces. There was a really good crunch that was in the relish. I just had some today on a cheeseburger - amazing! We ended up canning this in small jelly jars (4 oz jars) to not waste the product. Thanks for a keeper! I will be using this receipe over and over again!
In a food processor, finely chop zucchini, using an on/off motion.
Put zucchini in a large bowl.
Finely chop onions in food processor.
Add to zucchini in the bowl.
Remove seeds from, and finely chop peppers by hand.
Add to bowl.
Sprinkle everything with salt.
Stir to blend.
Let stand 1 hour, stirring occasionally.
Drain off liquid.
Rinse thoroughly under cold running water.
Drain, pressing out liquid.
In a large heavy saucepan, combine sugar, vinegar, dry mustard, celery seed, pepper, and turmeric.
Bring to a boil, stirring.
Add the drained zucchini mixture.
Bring to a boil, stirring frequently.
Simmer, uncovered, stirring occasionally, for 15 minutes, or until thickened and zucchini mixture is tender.
Combine water and cornstarch.
Add to zucchini mixture.
Cook, stirring, for 5 minutes, or until clear and thickened.
Seal in sterilized bottles and process in a water bath for 5 minutes.
How I sterilize bottles: Wash bottles well in hot soapy water.
Dry them.
Put a cookie sheet in the oven, with the bottles on the cookie sheet, right side up.
Heat oven to 225F.
Leave bottles at this temperature for 10 minutes.
Turn off oven.
Leave bottles in there until you need them.