teresas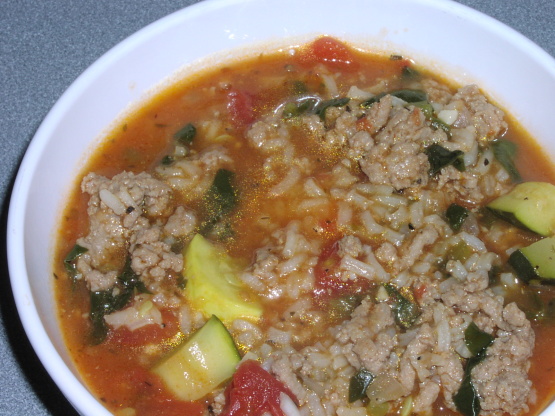 No, that's not a typo. My DH calls my soups "stoup" because I make them THICK. My oldest son is down with a head cold and a sore throat and I didn't have time for my usual, homemade chicken and noodle soup so I whipped this up instead of the planned dinner he wouldn't have been able to eat. You don't have to have a head cold to enjoy this. You just need to be looking for a bowlful of meaty goodness and colorful veggies with a little extra zip. Note -- "vegetable juice cocktail" is V-8. But that isn't in the ingredient database so I can't say it.

This was a big surprise! I really didn't think it would be so darn good! Both DH and I thought it was outstanding. The only thing that it really, really needed was salt. (But that could just be us). I tagged this recipe because I had some leftover spinach. I cut the recipe in half, used fresh spinach, and the V-8 juice I used was hot and spicy. This is so good I don't think we will ever have a head cold again. Thanks 3KillerBs for posting. (we are sister Geminis, how cool is that?)
In a large pot, brown the ground turkey and onions in a little olive oil.
Add all the other ingredients and bring to boil.
Simmer 15-20 minutes, until rice is soft and flavors are well blended.
Note: If you prefer a thinner, more brothy consistency add more chicken stock and taste to adjust seasonings.
Note: The jalapenos don't make this really hot -- just a little zippy. If even this is too much substitute the milder Anaheims or "Cubanelle"-type sweet peppers. If its not spicy enough for you go for whatever variety suits your taste.
Note -- I haven't frozen it, but it ought to freeze as well as any other soup.