Yummy Broccoli Veggie Soup
Annacia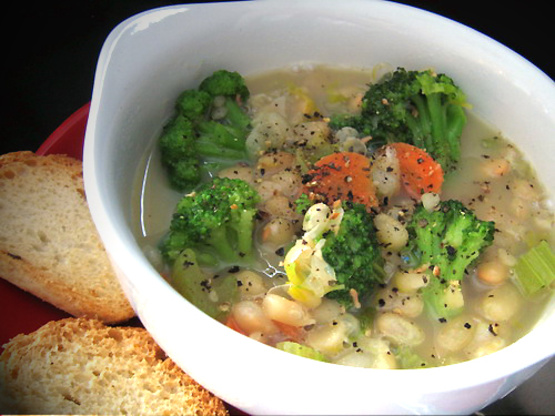 On my quest to "Get Ready for Summer", this is a recipe I created for a healthy but yummy lunch soup. This can easily be converted to vegetarian by using vegetable broth in place of chicken broth. I use Easy Electric Pressure Cooker Chicken Stock for my chicken stock, so there is already a hint of parsley, garlic, pepper, bay leaves, etc. in the broth. If you're using canned broth, you may wish to lightly season it to taste, but it won't need much.

An excellent soup. As a personal preference only I believe that I would skip the small addition of milk. I tasted it before I added the milk as well as after and while the milk certainly didn't harm it I don't think that it really added anything either. I didn't have canned white beans so I cooked some navy beans this morning and used them for the soup. All in all I love it. Made for Photo Tag.
In a medium pot, heat oil over medium high heat. Add onion, celery, and carrots. Turn heat down to medium and sautee until just tender, about 10 minutes.
Add stock and broccoli, simmer over medium low heat about 30 minutes until broccoli is tender and flavors have blended.
Pulse a couple times with an immersion blender.
Add the beans and evaporated milk, heat through. Pulse a couple more times with the blender until you get the consistency you want. I like to leave chunks in mine, so I only pulse once or twice.
Season with salt and pepper.
Top with a bit of grated cheese if you like.