Yukon Gold Gratin With Chilies, Cilantro and Cheese
-Mary-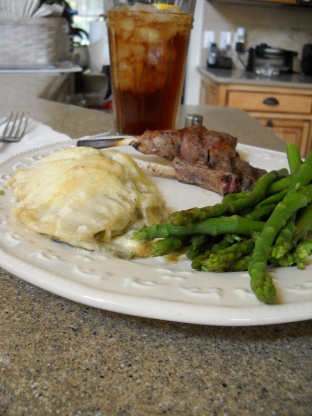 Southwestern flavors and Monterey Jack cheese come together in this rich, creamy gratin.

Top Review by -Mary-
This was really great. I didn't have queso anejo, so just topped with Monterey Jack. Didn't have yukon gold, so used some large new red potatoes fresh from our garden. I also left my chiles really large, sliced potatoes and layered then with large pieces of chile, putting salt and pepper on potatoes as I was making the layers. Didn't use cilantro, my hubby doesn't like it. Poured on the broth and cream, and baked until potatoes were done. Took off the foil cover and topped with the jack cheese, and baked until bubbly and slightly browned. It was yummy.
Preheat oven to 400°F
Char chilies over gas flames or in broiler until blackened on all sides.
Enclose in paper bag; let stand 10 minutes. Peel, seed and chop chilies.
Butter 13x9x2-inch glass baking dish.
Sprinkle garlic over bottom of dish.
Arrange 1/4 of potatoes in dish.
Sprinkle with salt and pepper, then with 1/3 of chilies and 1/3 of cilantro.
Repeat layering of potatoes, chilies and cilantro 2 more times, seasoning potatoes with salt and pepper.
Top with potatoes.
Pour broth over, then cream.
Sprinkle with salt and pepper.
Tent dish with foil.
Bake until potatoes are tender, about 1 hour 15 minutes.
Uncover.
Sprinkle cheeses over potatoes.
Bake until liquid thickens, about 15 minutes.
Cool slightly.
Sprinkle with cilantro.