Yu Hsiang Eggplant (Aubergine)
Jostlori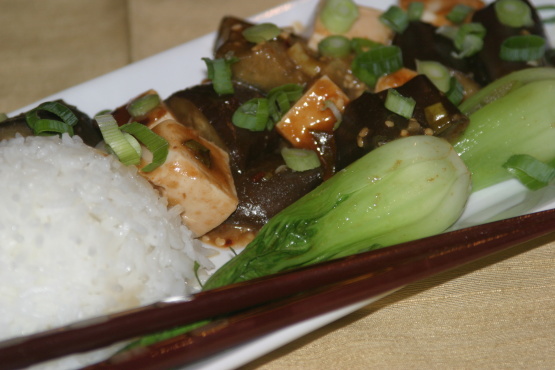 I have not tried this recipe myself it is submited for an ISO request. This spicy eggplant dish is a little sweet, a tiny bit sour, and highly flavorful. The dish tastes just as good if you omit the meat. Eggplant is such a "meaty" vegetable in texture that it'll still make a very filling meal, when paired with a big bowl of steamed rice.

I liked this recipe a lot, even though it wasn't exactly what I thought it would be. I was thinking it would be like the eggplant dish at Panda Express or Panda Inn. Still, I would definitely make this again. We went totally vegetarian on this one, using tofu instead of meat. It was a great combination and very filling. Served with jasmine rice and sesame ginger baby bok choy. Thanks, Steve! Made for Naked Recipes 2012.
Cut the eggplant into 2" long sections. Halve, then cut into thirds or quarters [sticks approximately 2"x ½"x1/2"].
Steam the eggplant using any steaming method; I usually place a steaming rack in my wok, add half cup water & turn the heat to high, then place the ingredients on a dish and place the dish on the rack in the wok. Cover and steam. The eggplant will take approximately 15-20 minute to cook.
When tender [you can easily poke a chopstick, fork, etc. through one of the pieces], remove from heat.
If the veggies are sitting in a deep pool of liquid, drain, but not too thoroughly. Set aside.
Mince 3 cloves garlic; finely chop 2-3 stalks scallions. Set aside 1 tbsp chopped scallion for garnishing the final dish.
Heat 1 tsp cooking oil on medium [if using an electric stove, heat on high].
Add ½ pound ground pork [skip to step 4 if you're doing the vegetarian version]. Break up the pork using a metal spatula to help it cook quicker.
When the meat is no longer pink, add the chopped garlic and scallions. Stir.
Add 2 tsp chili bean paste, 1 tsp sugar, ½-1 tsp vinegar, 1/2 tsp salt and 1 tsp soy sauce, then stir. Let cook for 1-2 minute If the mixture looks very dry, add ¼ cup water.
Taste; add more salt if it doesn't taste salty enough, more chili bean paste if it's not spicy enough, a pinch more sugar if you find it a tad too salty.
Stir in the cornstarch paste; cook until the sauce thickens [a minute or two].
Pour into a shallow bowl and drizzle with sesame oil.
with the remaining scallions. Serve with plenty of steamed white rice.