Yakitori ( Japanese Grilled Chicken Skewers)
Peter J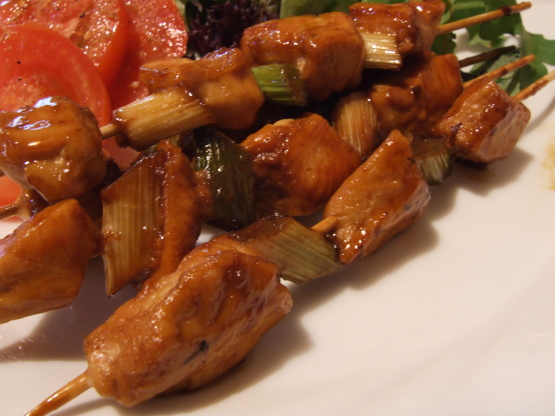 a popular skewer dish in Japanese, chicken thighs, wings can also be used aside from the breast.

Had this for supper tonight and enjoyed it very much. I only made a couple changes. I couldn't find any sake in the grocery store, so I used rice wine (not rice wine vinegar) instead -- I think that may be the same thing -- and I cut the sugar from the 2 tbsps suggested to only 1 tbsp. Had lots of the sauce left over. I mean lots and lots. Definitely will go into our regular rotation.
Bring yakitori sauce to a boil for 5 min then set aside.
thread the chicken alternately with the green onions onto the skewers.
grill chicken in a preheated griller, turning every now and then and basting at the same time to keep it moist. drippings can be returned to baste the chicken until it is cooked.
baste the yakitori again and serve with left over sauce.