Ww Cumin-Scented Oven Fries

This is a great tasting recipe. It is out of my Weight Watchers cookbook called "Best of Weight Watchers Magazine". It has 3 points per serving.
Directions
Preheat the oven to 450 degrees F, lightly spray a baking pan with nonstick spray.
Combine the potatoes and olive oil in one bowl.
Combine the cumin, garlic powder, paprika, salt, cayenne, and cinnamon in another bowl.
Sprinkle the spice mixture over the potatoes and toss well.
Arrange the potatoes in a single layer on the pan.
Bake 20 minutes, then turn the potatoes, and bake until crisp and cooked through, 8-10 minutes longer.
For a little extra crispness, finish cooking the fries under the broiler.
Reviews
Most Helpful
these are great - an easy way to spice up potatoes. I also tried with frozen fries and it worked well too. I do like to omit the cinnamon though.
Lots of flavor here! And easy to make. I cut the recipe down to one large potato, which was plenty for two of us, served with a chicken burger. Only thing I will change next time is to cut the amount of cayenne.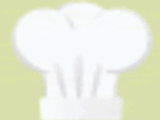 Yummy! I left the skin on the potatoes, and broiled them for a couple minutes. I also left out the cayenne. I think that they were a tad over spiced, but that's just my opinion. I'll make them again for sure though :) Thanks!