Wisconsin Diner Griddle Cakes
Nimz1466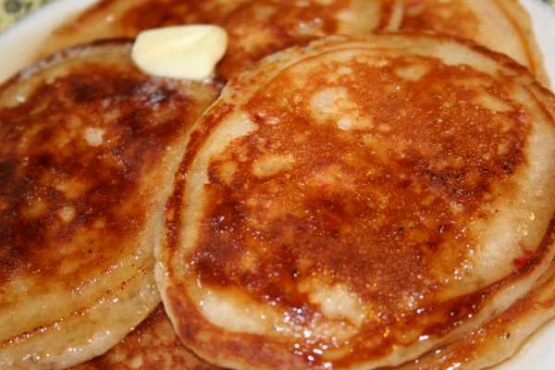 Made with strawberry yogurt and buttermilk, these are light and tender and very flavorful. Have also tried with vanilla yogurt, also delicious. From the Wisconsin Milk Marketing Board, changed to my tastes. In Wisconsin these would be served with butter and real maple syrup.

These had a really great taste! I love the subtle strawberry flavor, it was a great change from ordinary pancakes. When I flipped them they did sort of fall flat and had a bit of a chewy texture. I think I may try adding more baking powder next time to help them get more of a rise. Thanks for posting Kaarin!
Combine first five dry ingredients.
In another bowl whisk the egg, yogurt, buttermilk and melted butter. Add the dry ingredients, stirring just until combined.
Heat griddle and 1 tablespoons butter over medium-low heat.
Pour 1/4 cup batter onto griddle for each pancake. Cook 2 minutes, until golden (these won't bubble as much as regular pancakes so watch closely), flip and cook 2 minutes more, until the center springs back when pressed.
Use additional 1 tablespoons butter to grease griddle for next batch, if necessary.