Why-The-Chicken-Crossed-The-Road Santa Fe-Tastic Tortilla Soup
CIndytc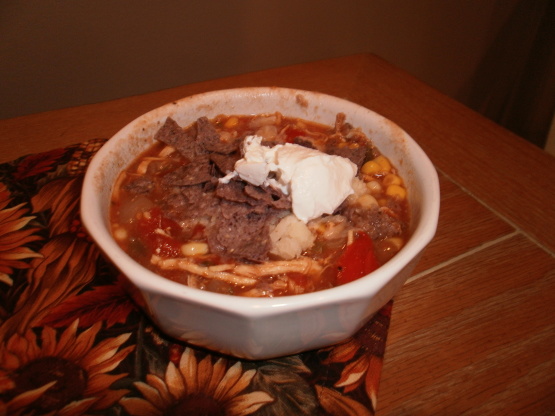 Good, easy recipe with the chicken tortilla soup you have been searching for!

Very good soup, but at least give credit to Rachel Ray. The recipe is a complete copy, including the use of all the same terms and measurements.
3

ears corn on the cob

1

red bell pepper, split and seeded

1

lb chicken breast tenders

1

teaspoon poultry seasoning, 1/3 palm full

1

teaspoon cumin, 1/3 palm full
salt and pepper

1

medium yellow onion, chopped

3

garlic cloves, chopped

1 -2

chipotle chile in adobo (medium to hot heat level)

1

(28 ounce) can stewed tomatoes

1

(8 ounce) can tomato sauce

3

cups chicken stock, available in re-sealable paper containers on soup aisle

4

cups blue corn tortilla chips, broken up into large pieces

1

cup cheddar cheese or 1 cup monterey jack pepper cheese, shredded
1⁄2 cup sour cream

Optional garnishes

1⁄4 raw red onion, chopped (optional)

2 -3

tablespoons fresh cilantro (optional) or 2 -3 tablespoons fresh parsley leaves, chopped (optional)
Vegetable or corn oil, for drizzling, plus 2 tablespoons (2 turns of the pot in a slow stream).
Heat a grill pan to high and a soup pot to medium high. Drizzle oil on corn and place on grill. Add red pepper to grill with corn. Char vegetables 10 minutes, total, turning occasionally. Remove to cool, 5 minutes. Remove charred skin from the pepper.
While vegetables cook, dice chicken. Add 2 tablespoons oil to hot soup pot. Add chicken to pot. Season with poultry seasoning, cumin, salt and pepper. Lightly brown chicken on each side. Add onions and garlic and chipotle peppers. Cook vegetables with chicken 5 to 7 minutes to soften. Add tomatoes, tomato sauce and stock. Bring soup to a bubble, reduce heat to medium low.
Scrape corn off cob and add to soup. Chop grilled red pepper and stir into soup. Add chips to soup in handfuls and fold together.
Serve soup immediately with scatter of shredded cheese and a dollop of sour cream. Top with any or all of the suggested garnishes.