Annacia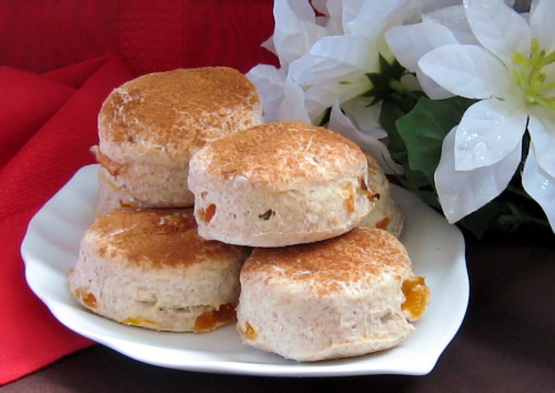 A great low-fat snack from Healthy Foods Mag Australia!

Made these with the soft, chewy flavorful Medjool dates & rolled the dough out enough so that I'd be pretty sure to get at least a dozen scones (actually got 14!), & used a cutter that was slightly less than 2" in diameter! We had some very tasty scones & a recipe worth keeping around! Thanks for sharing! [Tagged, made & reviewed in Please Review My Recipe]
Preheat oven to 200.C.
Spray a baking tray with cooking oil.
Pour 2 cups boiling water over dates and allow to soften for approx 10 mins before draining & chopping.
Sift flours with icing sugar & salt into a bowl.
Rub in margarine with fingertips until mixture resembles breadcrumbs, add dates and make a well in the centre then add egg.
Stir lightly with a knife and add enough milk to form a soft dough.
Turn onto a floured surface and cut dough into 5cm rounds.
Place on the baking tray and brush with a little milk before baking for 15-20 mins or until golden.