Whole Wheat Pumpkin Gingerbread
Annacia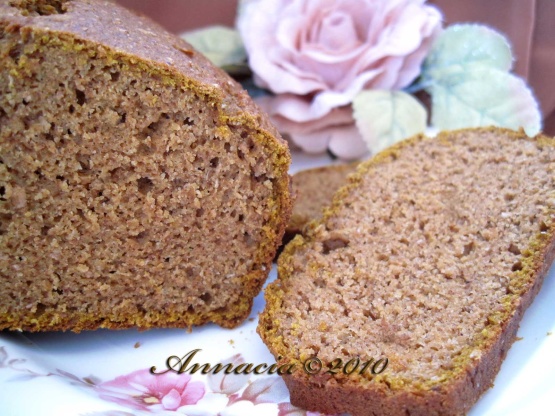 I am adapting this from Pumpkin Gingerbread on Allrecipies, so I can have the nutritional evaluation with whole wheat instead of white flour and brown sugar.

I wasn't sure just what to expect from a pumpkin gingerbread, however, I like both and thought it would be an interesting combo. It's exactly that, an interesting blend of flavors that works. Don't expect a gingerbread with a slight pumpkin essence or a spicy pumpkin bread. The spicing is very mild and while the pumpkin is certainly there if someone received a slice without knowing that it was I think the reaction would be "This is really good, but, what is it". It's sure quick and easy to make and mine was done in 45 mins. I made a single loaf using 1/2 a cup of Splenda brown and 1/4 cup of Splenda granulated, one whole egg and 1/4 cup of egg white, doubled the cinnamon and used 1/4 each of nutmeg and mace. The bread is lovely, moist and very nice with French Vanilla tea. Made for PAC, Spring '10.
Preheat oven to 350 degrees F (175 degrees C). Lightly grease two 9x5 inch loaf pans.
In a large mixing, combine sugar, oil and eggs; beat until smooth. Add water and beat until well blended. Stir in pumpkin, ginger, allspice cinnamon, and clove.
In medium bowl, combine flour, soda, salt, and baking powder. Add dry ingredients to pumpkin mixture and blend just until all ingredients are mixed. Divide batter between prepared pans.
Bake in preheated oven until toothpick comes out clean, about 1 hour.